Annapurna base camp trekking and Tent Peak Climbing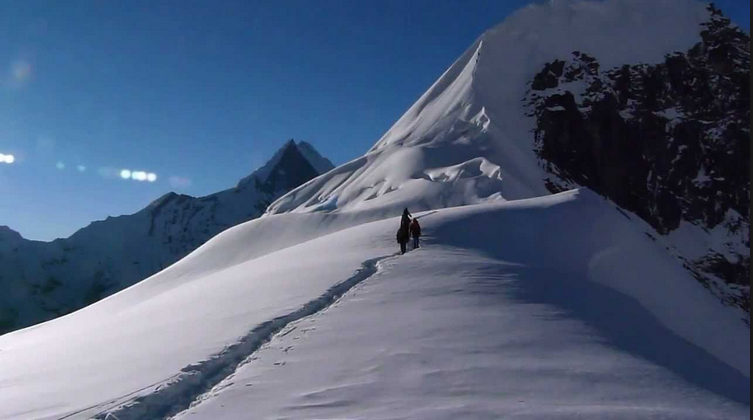 Trek to Annapurna Base camp with Tent peak climb.
Annapurna Base Camp trekking  and tent peak climbing  connects beautiful Himalayan scenery with attractive insight.Into the life of middle hill Nepalese the trek is famous for those people. who love to enjoy a real involvement of  this both trek begins from the gurungs villages with the natural field. surrounding of breathtaking views of Himalayas .
 The majestic scenery of rice terrace, hills & mountain and different traditional culture you should start the trail from lowland villages and rice terraces deep into the Annapurna Himal. Spend at least one full day inside the sanctuary, side trips across the south Annapurna glacier.
 Annapurna base camp north allow for an even better appreciation of this unique place. Anytime, trekkers must beware of snowfall and avalanches that can block the narrow entrance to the sanctuary. Tent Peak climbing is also known as Tharpu Chuli,  is protect by Annapurna Sanctuary at an elevation of 4130m. From the area, you can have opportunity to summit the smaller scale of Himalayan peak.
Further providing  an exciting climb combining glacier travel face climbing this mountain offers a complete view of the entire region.
As this peak climbing area consists of  awesome dome hanging glaciers and uplands surrounded by the highest peaks on earth. which has compelled the travelers to feel the beauty and unbelievable activity of this entire Himalayan. When we have trek to the peak, we begin our trail through forests, villages and terraced farmland, in between you. 
You can have masterpiece view of unparalleled mountain, which gives you a lifetime experience.
---
Outline Itinerary
| | |
| --- | --- |
| Day 1 | Arrival at Tribhuvan International Airport (TIA) Kathmandu. Welcome with bunch of flower assistance at the Airport and meet with our staff (One of our company staff will be waiting you at the Airport with display your name ".................." which is print on our company white board and pick up by our private car and than 20 minutes drive to the Hotel. After few minutes rest in hotel, Visit in our office and have hot/cold drinks (Tea/Coffee) waiting to serve and have join together, One of our staff will brief you regarding the trip and introduction with your trekking guide. O/N at hotel. |
| Day 2 | Full day (6 hrs) guided sightseeing in Pashupatinath, Boudhanath and Patan Durbar Square. Overnight in Hotel. (B) |
| Day 3 | 7 hrs drive or 30 minutes flight to Pokhara (850m) and check in Hotel (B) |
| Day 4 | Pokhara to Nayapul 46 KM drive and commence trek to Tikhedhunga (1577m) 4/5 hrs (B,L,D |
| Day 5 | Trek to Ghorepani (2853m) 5 hrs (B,L,D) |
| Day 6 | Early in the morning 40 minutes hike to Poon Hill (3210m) for the best panoramic Annapurna and Dhaulagiri Range and back to hotel have breakfast and then continue trek to Tadapani(2652m) 5 hrs (B,L,D) |
| Day 7 | Trek to Chhomrung (1950m) 5 hrs (B,L,D) |
| Day 8 | Trek to Dovan (2720m) 5 hrs (B,L,D) |
| Day 9 | Trek to Machapuchre Base Camp(3700m) 5hrs (B,L,D) |
| Day 10 | Trek to Annapurna Base Camp (4130m) 2hrs (B,L,D) |
| Day 11 | Trek to Tent Peak (Tharpu Chuli) Base Camp (4450m) (B.L.D) |
| Day 12 | Tent Peak Base Camp to High Camp (4800m) (B.L.D) |
| Day 13 | Tent Peak (Tharpu Chuli) (5663m) summit and return back to Tent Peak Base Camp (4450m) (B.L.D) |
| Day 14 | Machhapuchre Base Camp (MBC) trek down to Dovan (2720m).(5 hrs). (B, L, D) |
| Day 15 | Trek to Jhino Danda (1600m) 5 hrs (B,L,D) |
| Day 16 | Jhino Danada to Nayapul (1170m) 5 ½ hrs and 1 hour drive back to Pokhara. And check in Hotel (B,L) |
| Day 17 | 7 hrs drive or 30 minutes flight to Kathmandu and check in Hotel and rest of the time for shopping. Join us for the farewell dinner at Nepali typical restaurant in the evening at 07:00 PM with culture program. (B, D) |
| Day 18 | Onward departure to your destination by our private vehicle. 3 hrs before you have to be airport (B) |
Day 1
Arrival at Tribhuvan International Airport (TIA) Kathmandu. Welcome with bunch of flower assistance at the Airport and meet with our staff (One of our company staff will be waiting you at the Airport with display your name ".................." which is print on our company white board and pick up by our private car and than 20 minutes drive to the Hotel. After few minutes rest in hotel, Visit in our office and have hot/cold drinks (Tea/Coffee) waiting to serve and have join together, One of our staff will brief you regarding the trip and introduction with your trekking guide. O/N at hotel.
Day 2
Full day (6 hrs) guided sightseeing in Pashupatinath, Boudhanath and Patan Durbar Square. Overnight in Hotel. (B)
Day 3
7 hrs drive or 30 minutes flight to Pokhara (850m) and check in Hotel (B)
Day 4
Pokhara to Nayapul 46 KM drive and commence trek to Tikhedhunga (1577m) 4/5 hrs (B,L,D
Day 5
Trek to Ghorepani (2853m) 5 hrs (B,L,D)
Day 6
Early in the morning 40 minutes hike to Poon Hill (3210m) for the best panoramic Annapurna and Dhaulagiri Range and back to hotel have breakfast and then continue trek to Tadapani(2652m) 5 hrs (B,L,D)
Day 7
Trek to Chhomrung (1950m) 5 hrs (B,L,D)
Day 8
Trek to Dovan (2720m) 5 hrs (B,L,D)
Day 9
Trek to Machapuchre Base Camp(3700m) 5hrs (B,L,D)
Day 10
Trek to Annapurna Base Camp (4130m) 2hrs (B,L,D)
Day 11
Trek to Tent Peak (Tharpu Chuli) Base Camp (4450m) (B.L.D)
Day 12
Tent Peak Base Camp to High Camp (4800m) (B.L.D)
Day 13
Tent Peak (Tharpu Chuli) (5663m) summit and return back to Tent Peak Base Camp (4450m) (B.L.D)
Day 14
Machhapuchre Base Camp (MBC) trek down to Dovan (2720m).(5 hrs). (B, L, D)
Day 15
Trek to Jhino Danda (1600m) 5 hrs (B,L,D)
Day 16
Jhino Danada to Nayapul (1170m) 5 ½ hrs and 1 hour drive back to Pokhara. And check in Hotel (B,L)
Day 17
7 hrs drive or 30 minutes flight to Kathmandu and check in Hotel and rest of the time for shopping. Join us for the farewell dinner at Nepali typical restaurant in the evening at 07:00 PM with culture program. (B, D)
Day 18
Onward departure to your destination by our private vehicle. 3 hrs before you have to be airport (B)
Abbrebiations: B, L, D means : Breakfast, Lunch and Dinner
Price Includes
- Airport Pick up and drop off by our private vehicle
- Kathmandu/Pokhara hotel room on bed and Breakfast (B) basis
- Domestic airfare (Kathmandu-Lukla-Kathmandu)
- Tent Peak Climbing permits (Not required) now eliminate
- Annapurna Conservation Area Project (ACAP) entry permits fees.
- Accommodation and 3 meals a day such as Breakfast, Lunch & Dinner (B,L,D) while on the trek in Lodges (Tea house) and tent camp (Organize)
- Day 11 to 13 (3 nights) fully accommodation in tent camp
- All Kitchen crew and Tent, Mattress etc…
- Sherpa Climbing equipments and his fee
- Fully escorted trek with an English speaking license holder local sherpa trekking /climbing guide, 1 cook and 1 helper and necessity porters.
- All program according to itinerary on full board.
- All land transfer as per above itinerary by our private vehicle
- Skyline Company T-shirt
- Farewell dinner at Nepali typical restaurant with culture program
- Wage, equipment, insurance and other facilities to staff
Price Excludes
- Nepal tourist visa fee US$ 40, with multiple entries for 30 days, you may easily issue the visa upon your arrival at Tribhuwan International Airport Kathmandu. (it will be ready within few minutes) You will require each 2 passport size photos.
- Kathmandu/Pokhara hotel Lunch and Dinner (L, D)
- Your personal Climbing equipments such as Crampons, Ice axe, Harness, Karabiners, Ice screws, Snow bars etc..
- Domestic airfare from Kathmandu to Pokhara or Pokhara-Kathmandu (if you required)
- Personal Spending money and all kind of drinks (Alcoholic, hot and cold drinks) bar bill, Int'l Telephone bill, hot shower, batteries charge, laundry etc. Tips for guide, porter and driver. (Tipping is expected).
- Travel Insurance and medical evacuation in case of emergency
Quick Facts
Best Season: Autumn,Spring
Duration: 18 days
Trekking Days: 13 days
Grade: mountaineering
Rating: 5
Maximum Altitude: 5663 m
Commences At: Pokhara
Ends At: Kathmandu
Code: ATE53
Booking Form