Tent Peak Climbing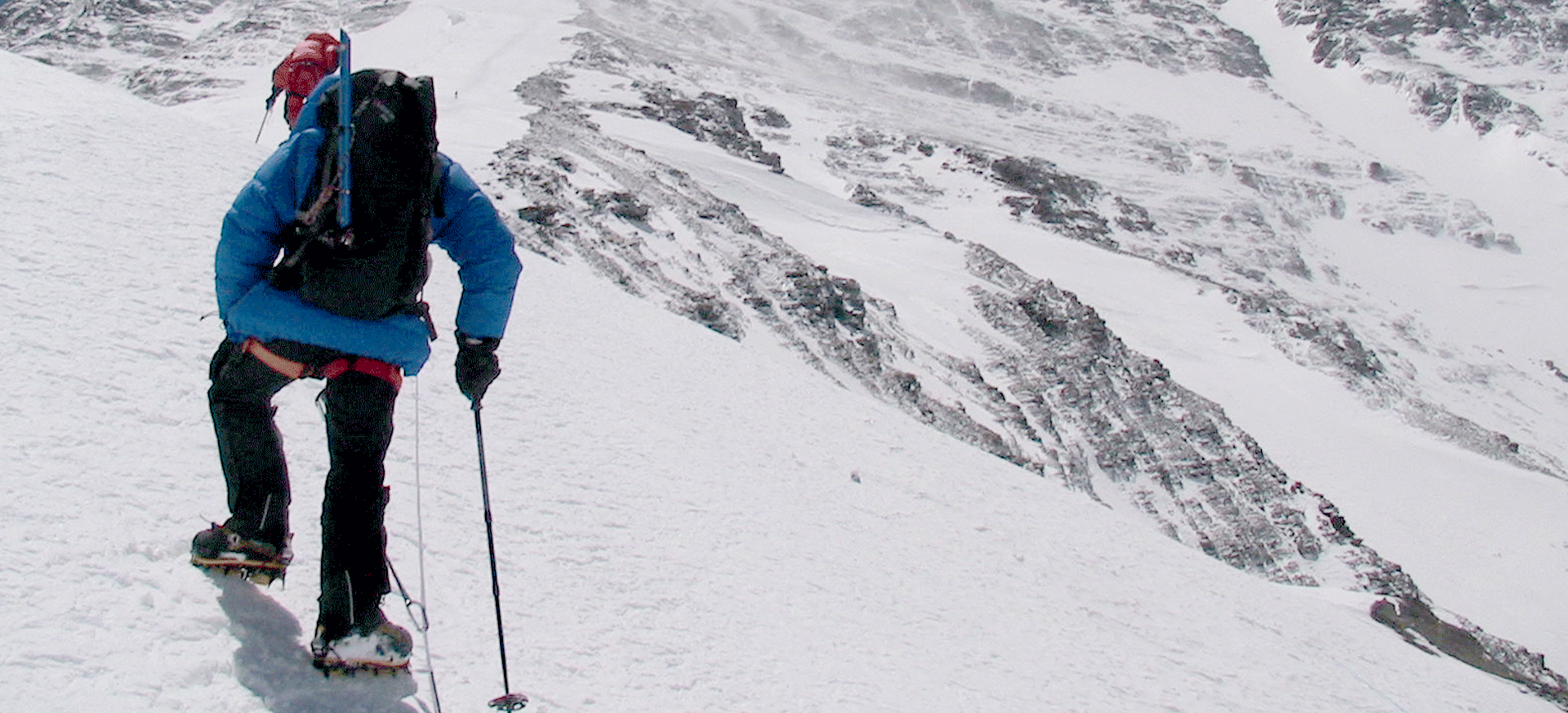 Tent Peak climbing is where you are seeking for peak climbing and you're precisely in the exact direction of Annapurna region concerning to Tent peak and your enthusiasm to hold out at Tent peak climbing with accomplishing all of your speedy craving in the arena of peak climbing. Skyline Treks puts their best sortie to issue a nostalgic peak climbing regards their cherished clients.  
    
Tent peak climbing (5663 meters), also accepted as the 'Tharpu Chuli, which consist abundant of daring to accomplish its peak. Tent peak climbing is placed in the all-embracing Annapurna region of Nepal. Sited at just south of the 'Annapurna Base camp', Tent put forwards the most awe-inspiring views of the panoramic snow-capped peaks of the Annapurna region.
If you're looking forward to amalgamate the peak climbing with the most fine-looking quaint settings of Nepal then you should unquestionably pick for 'Tent peak' climbing. The trail make ones way through the most staggering alpine plants, succulent rhododendron forests, and genetic local villages integrate with extensive snow-capped peaks lay down to gust you away with tits calm beauty. As you processed your trek higher, you will be faced with the lessen zone near the Annapurna mountain chain which is well thought-out as the most vivid locale of the jewel beauty of Nepal.
Tent Peak climbing is theoretically easy and comparatively minuscule than the other climbing well-suited for the ones' longing for a short and easy peak climbing. Most notably, Skyline Treks take of all your climbing requests such as delivering  superiority equipment, terrific food, trekking porters with well versed and experienced climbing leader so that you can only draw attention to, on the Peak climbing and nonentity else!
---
Outline Itinerary
| | |
| --- | --- |
| Day 1 | Arrival at Tribhuvan International Airport (TIA) Kathmandu. |
| Day 2 | Full day (6 hrs) guided sightseeing in Pashupatinath, Boudhanath and Patan Durbar Square. Overnight in Hotel. (B) |
| Day 3 | 7 hrs drive by tourist bus or 30 minutes flight to Pokhara (850m) and check in Hotel (B) |
| Day 4 | Pokhara to Nayapul (46 KM) 1 hr drive and commence trek to Tikhedhunga (1577m) 4/5 hrs (B,L,D) |
| Day 5 | Tikhedhunga to Ghorepani (2853m).(6 hrs). (B, L, D) |
| Day 6 | Early in the morning 40 minutes hike to Poon Hill (3210m) for the best panoramic Annapurna and Dhaulagiri Range |
| Day 7 | Tadapani (2595m) to Chomorung (1950m).(5 hrs). (B, L, D) |
| Day 8 | Chomorong to Dovan (2720m).(5 hrs). (B, L, D) |
| Day 9 | Dovan to Machapuchre Base Camp (MBC)(3700m).(5 hrs). (B, L, D) |
| Day 10 | Machhapuuchre Base Camp to Annapurna Base camp (ABC) (4130m).(1 hr). (B, L, D) |
| Day 11 | Acclimatization in Annapurna Base Camp (ABC).(5 hrs). (B, L, D) |
| Day 12 | Trek to Tent Peak (Tharpu Chuli) Base Camp (4450m) (B.L.D) |
| Day 13 | Tent Peak Base Camp to High Camp (4800m) (B.L.D) |
| Day 14 | Tent Peak (Tharpu Chuli) (5663m) summit and return back to Tent Peak Base Camp (4450m) (B.L.D) |
| Day 15 | Machhapuchre Base Camp (MBC) trek down to Dovan (2720m).(5 hrs). (B, L, D) |
| Day 16 | Dovan to Jhinu Danda (Hot Spring) (1600m).(5 hrs). (B, L, D) |
| Day 17 | Jhinu Danda to Pothana (1900m).(5 hrs). (B, L, D) |
| Day 18 | Pothana to Phedi and 30 minutes drive to Pokhara. Check in Hotel (B, L) |
| Day 19 | 7 hrs drive by tourist bus or private vehicle or 30 minutes flight to Kathmandu |
| Day 20 | Onward departure to your destination by our private vehicle. 3 hrs before you have to be airport (B) |
Day 1
Arrival at Tribhuvan International Airport (TIA) Kathmandu. Welcome with bunch of flower assistance at the Airport and meet with our staff (One of our company staff will be waiting you at the Airport with display your name ".................." which is print on our company white board and pick up by our private car and than 20 minutes drive to the Hotel. After few minutes rest in hotel, Visit in our office and have hot/cold drinks (Tea/Coffee) waiting to serve and have join together, One of our staff will brief you regarding the trip and introduction with your trekking/ climbing guide. O/N at hotel.
Day 2
Full day (6 hrs) guided sightseeing in Pashupatinath, Boudhanath and Patan Durbar Square. Overnight in Hotel. (B)
Day 3
7 hrs drive by tourist bus or 30 minutes flight to Pokhara (850m) and check in Hotel (B)
Day 4
Pokhara to Nayapul (46 KM) 1 hr drive and commence trek to Tikhedhunga (1577m) 4/5 hrs (B,L,D)
Day 5
Tikhedhunga to Ghorepani (2853m).(6 hrs). (B, L, D)
Day 6
Early in the morning 40 minutes hike to Poon Hill (3210m) for the best panoramic Annapurna and Dhaulagiri Range and back to hotel have breakfast and then continue trek back to Nayapul (1170m) 5 ½ hrs and 1 hour drive back to Pokhara. Check in Hotel (B,L,D)
Day 7
Tadapani (2595m) to Chomorung (1950m).(5 hrs). (B, L, D)
Day 8
Chomorong to Dovan (2720m).(5 hrs). (B, L, D)
Day 9
Dovan to Machapuchre Base Camp (MBC)(3700m).(5 hrs). (B, L, D)
Day 10
Machhapuuchre Base Camp to Annapurna Base camp (ABC) (4130m).(1 hr). (B, L, D)
Day 11
Acclimatization in Annapurna Base Camp (ABC).(5 hrs). (B, L, D)
Day 12
Trek to Tent Peak (Tharpu Chuli) Base Camp (4450m) (B.L.D)
Day 13
Tent Peak Base Camp to High Camp (4800m) (B.L.D)
Day 14
Tent Peak (Tharpu Chuli) (5663m) summit and return back to Tent Peak Base Camp (4450m) (B.L.D)
Day 15
Machhapuchre Base Camp (MBC) trek down to Dovan (2720m).(5 hrs). (B, L, D)
Day 16
Dovan to Jhinu Danda (Hot Spring) (1600m).(5 hrs). (B, L, D)
Day 17
Jhinu Danda to Pothana (1900m).(5 hrs). (B, L, D)
Day 18
Pothana to Phedi and 30 minutes drive to Pokhara. Check in Hotel (B, L)
Day 19
7 hrs drive by tourist bus or private vehicle or 30 minutes flight to Kathmandu and check in Hotel and rest of the time for shopping. Join us for the farewell dinner at Nepali typical restaurant in the evening at 07:00 PM with culture program. (B, D)
Day 20
Onward departure to your destination by our private vehicle. 3 hrs before you have to be airport (B)
Abbrebiations: B, L, D means : Breakfast, Lunch and Dinner
Price Includes
- Airport Pick up and drop off by our private vehicle
- Kathmandu/Pokhara hotel room on bed and Breakfast (B) basis
- Domestic airfare (Kathmandu-Lukla-Kathmandu)
- Tent Peak Climbing permits (Not required) now eliminate  
- Annapurna Conservation Area Project (ACAP) entry permits fees.
- Accommodation and 3 meals a day such as Breakfast, Lunch & Dinner (B,L,D) while on the trek in Lodges (Tea house) and tent camp (Organize)
- Day 13 to 16 (4 nights) fully accommodation in tent camp
- All Kitchen crew and Tent, Mattress etc…
- Sherpa Climbing equipments and his fee
- Fully escorted trek with an English speaking license holder local sherpa trekking /climbing guide, 1 cook and 1 helper and necessity porters.
- All program according to itinerary on full board.
- All land transfer as per above itinerary by our private vehicle
- Skyline Company T-shirt
- Farewell dinner at Nepali typical restaurant with culture program
- Wage, equipment, insurance and other facilities to staff
Price Excludes
- Nepal tourist visa fee US$ 40, with multiple entries for 30 days, you may easily issue the visa upon your arrival at Tribhuwan International Airport Kathmandu. (it will be ready within few minutes) You will require each 2 passport size photos.
- Kathmandu/Pokhara hotel Lunch and Dinner (L, D)
- Your personal Climbing equipments such as Crampons, Ice axe, Harness, Karabiners, Ice screws, Snow bars etc..
- Domestic airfare from Kathmandu to Pokhara or Pokhara-Kathmandu (if you required)
- Personal Spending money and all kind of drinks (Alcoholic, hot and cold drinks) bar bill, Int'l Telephone bill, hot shower, batteries charge, laundry etc. Tips for guide, porter and driver. (Tipping is expected).
- Travel Insurance and medical evacuation in case of emergency
Quick Facts
Best Season: March to may & September to December is finest.
Duration: 20 of days.
Trekking Days: 16 days are adequate.
Grade: Strenuous.
Rating: Strenuous Himalayan region.
Maximum Altitude: 5,663 meters to summit point.
Commences At: Nayapul.
Ends At: Phedi.
Code: STE 34
Booking Form