Everest Base camp with Gokyo Lake/Gokyo Ri trek:
Everest Base camp with Gokyo Lake/Gokyo Ri trek: A very special, scene and threat.
The highest peak on earth,Mt.Everest stands at an elevation of 8,848 meters,wherein world's defying expedition to Everest take place at its base camp with an elevation of 5,364 meters is one of the most sought-after and like no other treks in the world.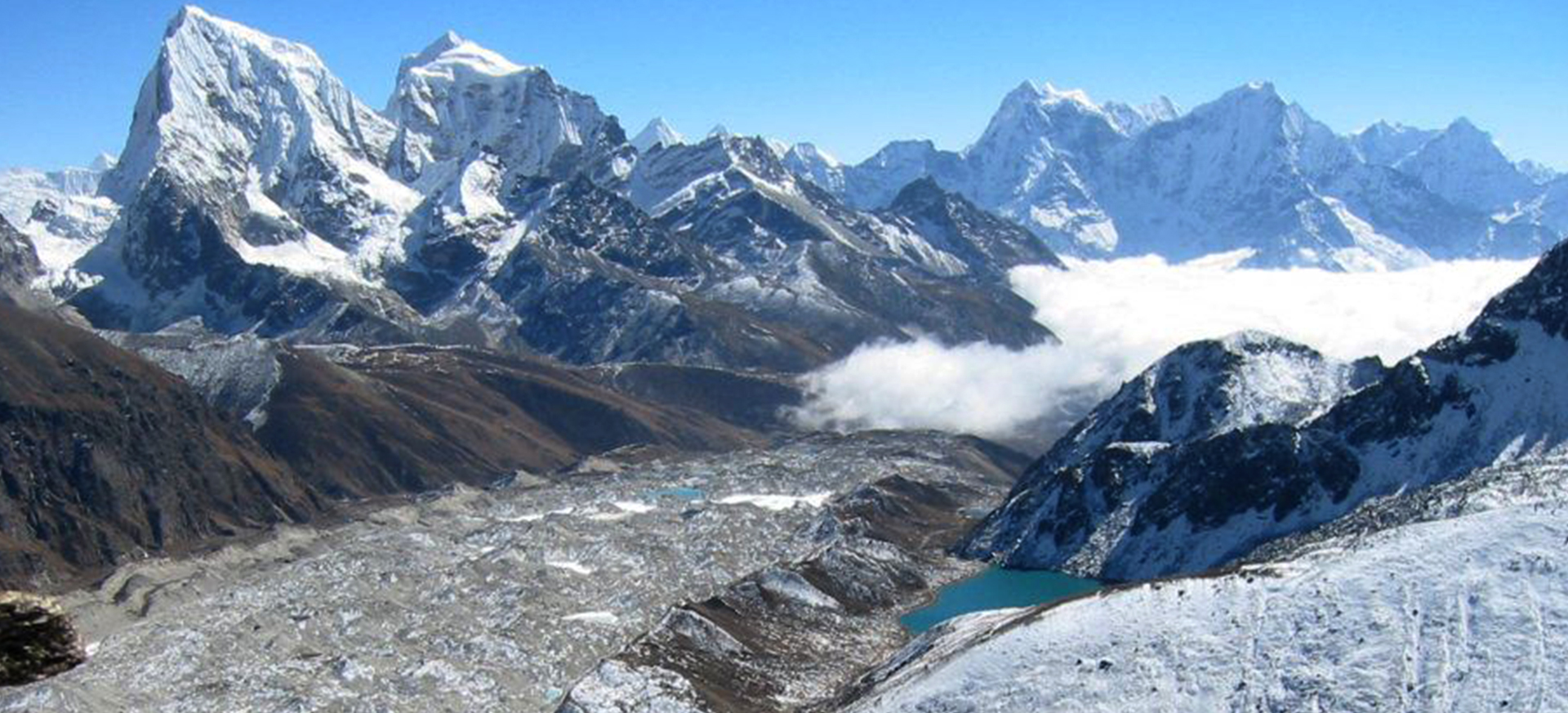 Trek to Everest Base Camp with Gokyo Ri drives wanderers inmost into the core of the Nepalese Himalaya. Mostly,whilst in this high altitude Everest trek,trekkers hike 5-6 hours a day which is enclosed by loads of world's highest and most enchanting snow-capped mountains. During trailing to Everest base camp with Gokyo Ri, trekkers have an enough chance to indulge with local food and courtesy and rest in expected warm and welcoming tea houses that is govern by Sherpa tribes.
The crucial motive for the trekkers to embrace this trail might be trekking to the Everest base camp. More and more explorer have single out Everest base came trek and put it on their must-do list.However,in truth,it is worthier to watch on untapped Gokyo Ri and nearby Gokyo Lake which is inseparable part of Everest base camp trail. From the high point of Gokyo Ri, trekkers not only do witness the grandiose vistas of Mt.Everest but the trail has everlasting assortment.
You can get into our Web address that take you through the photo story of this elevated trail to Everest base camp with Gokyo Ri trek. In the beginning are the 5 tremendous giant lakes on the way.Afterwards Mt.Cho-oyu the eight thousander views upright in the forefront of trekkers at Gokyo. On the top of Gokyo Ri at 5,335 meters/17,500 ft there is special,at this elevation trekkers can find and observe four of the world's highest eight thousander mountains,i:e,Everest,Lhotse,Makalu and Cho-Oyu.
Furthermore,world's spacious Ngozumpa glacier can be seen down from the high point of Gokyo Ri. Likely,some trekkers are not firm getting into the side trek of Everest base camp.Content to speak, trekkers will receive the finest of both Everest base camp with Gokyo Ri trails! If trekkers accept to judge by trekking to Everest region,then they must do Everest base camp with round Gokyo Ri trekking. This trekking trail to Everest base camp via Gokyo Ri is incredibly worthwhile for the first comer trekker in Nepal.
Whom is the Everest base camp with Gokyo Ri designated for?
Are you well-bodied? Once have you made high-altitude treks? At that instant, you can join with Everest Base Camp trek onto your must-do list! With no use for professional competence, Everest base camp via Gokyo Ri trek is one of the exclusive treks in the world that push you to altitudes above 5,400 meters/ 17,700 ft along toward the highest mountains in the world.
However, trek to Everest base camp with Gokyo Ri call for physical and mental ability – for above 15 days you trek and sleep at an elevation over 4,300 meters/14,100 ft and approximately all the days on this trek require 6-7 hours of hiking. Everest base camp via Gokyo Ri trek is well suited to offer for the one who is above 15+ years with prior high altitude trek involvement.
Difficulty level and Preparation.
We can't say Everest base camp via Gokyo Ri trek in Nepal is absolutely strenuous trek but in part this trek is challenging trek that urge good levels of fitness. Hiking through a 15 day trek is not a focus victory. The Everest base camp with Gokyo Ri has more four high passes on this trek which offer over 5,200 meters: the Gokyo Ri summit 5,345 meters, Cho la Pass 5,420 meters , Everest Base Camp 5,364 meters and Kala Patthar 5,545 meters. Most of the days, you will be trekking for over 6-7 hours in highland that is not more sympathetic.
There are a few unsound areas on this trek: Overpassing the Ngozumpa glacier and Cho la Pass. Likely,rockfall at Ngozumpa glacier and Cho la Pass is imbued with fissures.So,trekkers to Everest base camp with Gokyo Ri ought to hike with high concern through these two high passes.
Risks involved while Everest Base Camp via Gokyo Ri Trek.
On this trek Acute Mountain Sickness is a very high risk. You rise in haste and sleep in altitudes of over 4,200 meters/ 14,000 ft.In terms of trekking, its base in Nepal is truly leading-edge, wherein helicopter departure is accessible, it is quite expensive. In case, helicopter rescue in not accessible it will take days. Weather shows a very vital role in the going of Everest base camp trek with Gokyo Ri trek: Weather is a sincere friend for taking flight to Lukla. The entire airport of Lukla can close out due to cloud coating a mountain ridge.
To remember: In a situation if all flights on March 2nd don't take flight or some do and most don't, then we will not start the trek on the 2nd. We will offer it to the 3rd. This means we are going to be cutting off a day from the trek. We would be putting to use our buffer day even before the trek has commenced. It's not a positive thing, however, we should inclined for it. On your arrival from Lukla, you can cope with a same issue. Even though, You have succeeded the trek at Lukla and meet with the shut down airport. For all these reason, please save a day in Kathmandu as a buffer for your homecoming through international take off.