Kali gandaki River Rafting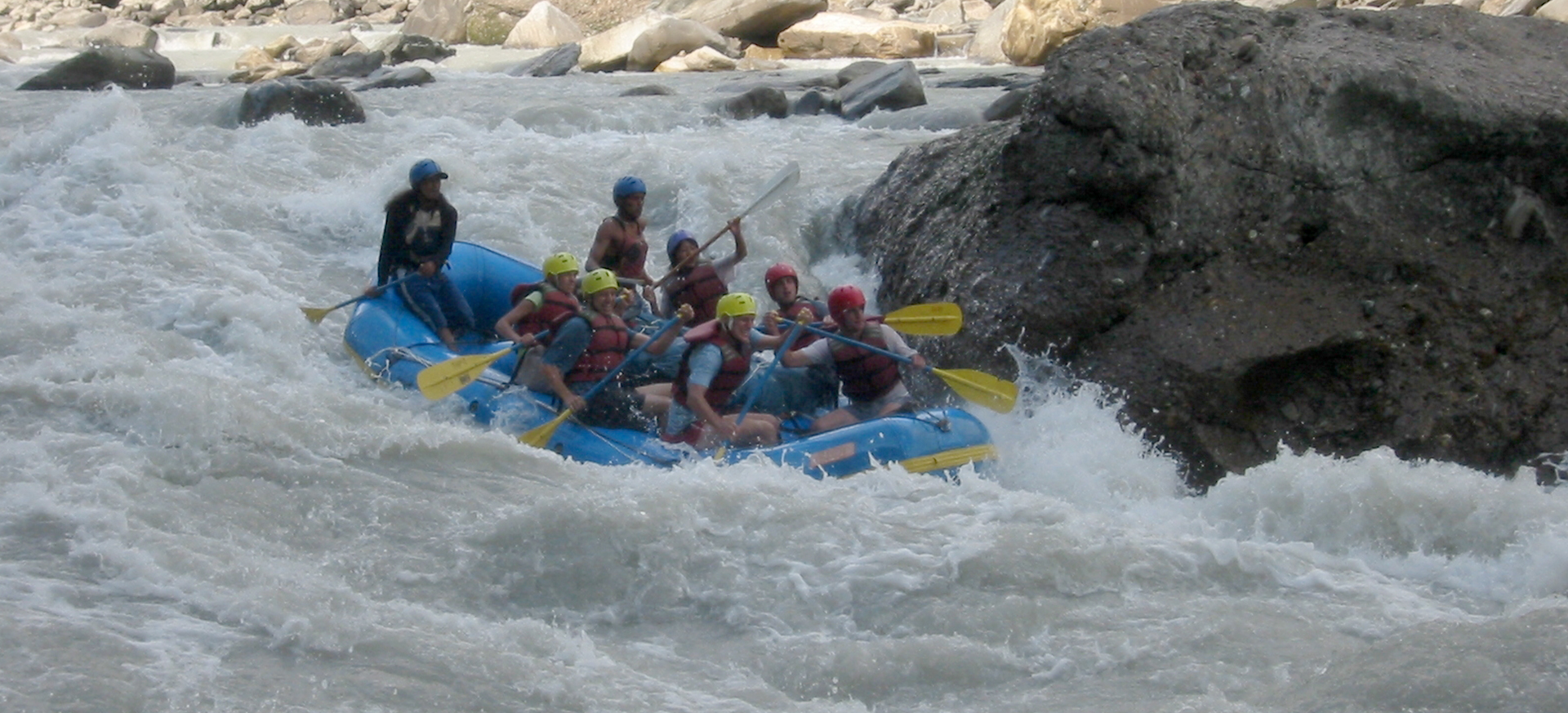 Kali Gandaki River rafting is one of the chief well received River Rafting encircling Himalayan Rivers of Nepal. Kali Gandaki the name is derived from the revered name of Hindu Goddess as Kali. The rapidly furious flowing river Kali Gandaki river rafting has been hailing from, from the plateau of Tibet in mustang and in the midst of Dhaulagiri (8167 meters) and Annapurna (8091 meters) cut off the deepest canyon. Intoxicating jolty 60 set of rapid and average length white water torrents more than 60 km, blossoming lush with dense forest, heart felting cascades, distinct villages, remarkable plants and wild animals and campsites in sandy coastline are immensely well-preserved 'sanctum' river put forward.
Rafting in Kali Gandaki River is the latest insertion to raft adventure in Nepal. The trail has simply been inaugurating allowed keeping in consideration of the growing popularity of rafting in Nepal. The river adventure is well suited for both amateur and professional rafters. The trail passes through spectacular scenarios, remote villages, plenty of wildlife, terrific gorges, challenging rapids; you also get to exult your times on the sandy beaches and river swimming.
We the entire members of Skyline Treks and Expedition have years of experience arranging noble white water rafting trips. In addition, our rafting trips are wieldy by professionals who handle all of your rafting needs all the way through the trip. Contact us swiftly to put your name down for a rafting trip on this classic river trip.
---
Outline Itinerary
| | |
| --- | --- |
| Day 1 | Arrival at Tribhuvan International Airport (TIA) Kathmandu. |
| Day 2 | Kathmandu to Pokhara 6 hrs by drive or 30 minutes by flight and check in hotel (B) |
| Day 3 | Pokhara - Modi. This morning drive to Nayapul by coach from Pokhara. Lunch is served at river beach while other member makes ready the raft. |
| Day 4 | Modi Dovan - Seti Beni Beach |
| Day 5 | Seti Beni drive back to Pokhara and check in Hotel. (B) |
| Day 6 | Pokhara to Kathmandu 6 hrs drive or 30 minutes flight and check in Hotel (B) |
| Day 7 | Onward departure to your destination by our private vehicle. 3 hrs before you have to be airport (B) |
Day 1
Arrival at Tribhuvan International Airport (TIA) Kathmandu. Welcome with bunch of flower assistance at the Airport and meet with our staff (One of our company staff will be waiting you at the Airport with display your name ".................." which is print on our company white board and pick up by our private vehicle and than 20 minutes drive to the Hotel. After few minutes rest in hotel, Visit in our office and have hot/cold drinks (Tea/Coffee) waiting to serve and have joined together, One of our staff will brief you regarding the trip. O/N at hotel.
Day 2
Kathmandu to Pokhara 6 hrs by drive or 30 minutes by flight and check in hotel (B)
Day 3
Pokhara - Modi. This morning drive to Nayapul by coach from Pokhara. Lunch is served at river beach while other member makes ready the raft. As soon as you finished your lunch, you are given briefing by river guide. Get set to paddle forward because the biggest rapid (class 4+) of this river "Small Brother" is approaches with speed. Another rapid "Big brother" follows immediately making its negotiation white a challenge. After some class III+ rapids you will be able to get off downstream and set up camp at Modi Dovan. Enjoy the starry night and campfire with singing and dancing. (B, L, D)
Day 4
Modi Dovan - Seti Beni Beach After a few minutes of rafting you encounter the class IV rapid "Morning Rapid" and paddle down to the next camp facing numerous other rapids. The whole day you can enjoy the panoramic views of the mountain and traditional country life, while paddling through the deepest river gorge of the world. Camp at Seti Beni beach. (B, L, D)
Day 5
Seti Beni drive back to Pokhara and check in Hotel. (B)
Day 6
Pokhara to Kathmandu 6 hrs drive or 30 minutes flight and check in Hotel (B)
Day 7
Onward departure to your destination by our private vehicle. 3 hrs before you have to be airport (B)
Abbrebiations: B, L, D means : Breakfast, Lunch and Dinner
Price Includes
Price Excludes
Quick Facts
Best Season: Autumn,Spring
Duration: 7 days
Trekking Days:
Grade: Moderate
Rating: 3 to 5 class
Maximum Altitude:
Commences At: Modi khola
Ends At: Kathmandu
Code: KGRR67
Booking Form