Mera Peak Climbing: An Elevation Climb for the Venturous.
Mera Peak Climbing: An Elevation Climb for the Venturous – Eastern part of Nepal, known as Everest region or Khumbu region has tremendous attention about the highest peak of the world. The region has 04 peaks over 8,000 meters i:e,Lhotse,Makalu,Cho-Oyu including Mt, Everest(8,848 meters) the highest peak on earth and as well more than hundreds of peaks over 6,000-7,000 meters lying for mountaineers to climb. Amongst those six thousander meters peak, standing at the high elevation of 6,654 meters is Mera peak. A climb to Mera peak is a great challenge for the mountaineers and mountain lovers the world ever. As avid Alpine mountaineers, undertaking to the higher mountain range like the Mera peak or other Himalayas would be childshood's dream.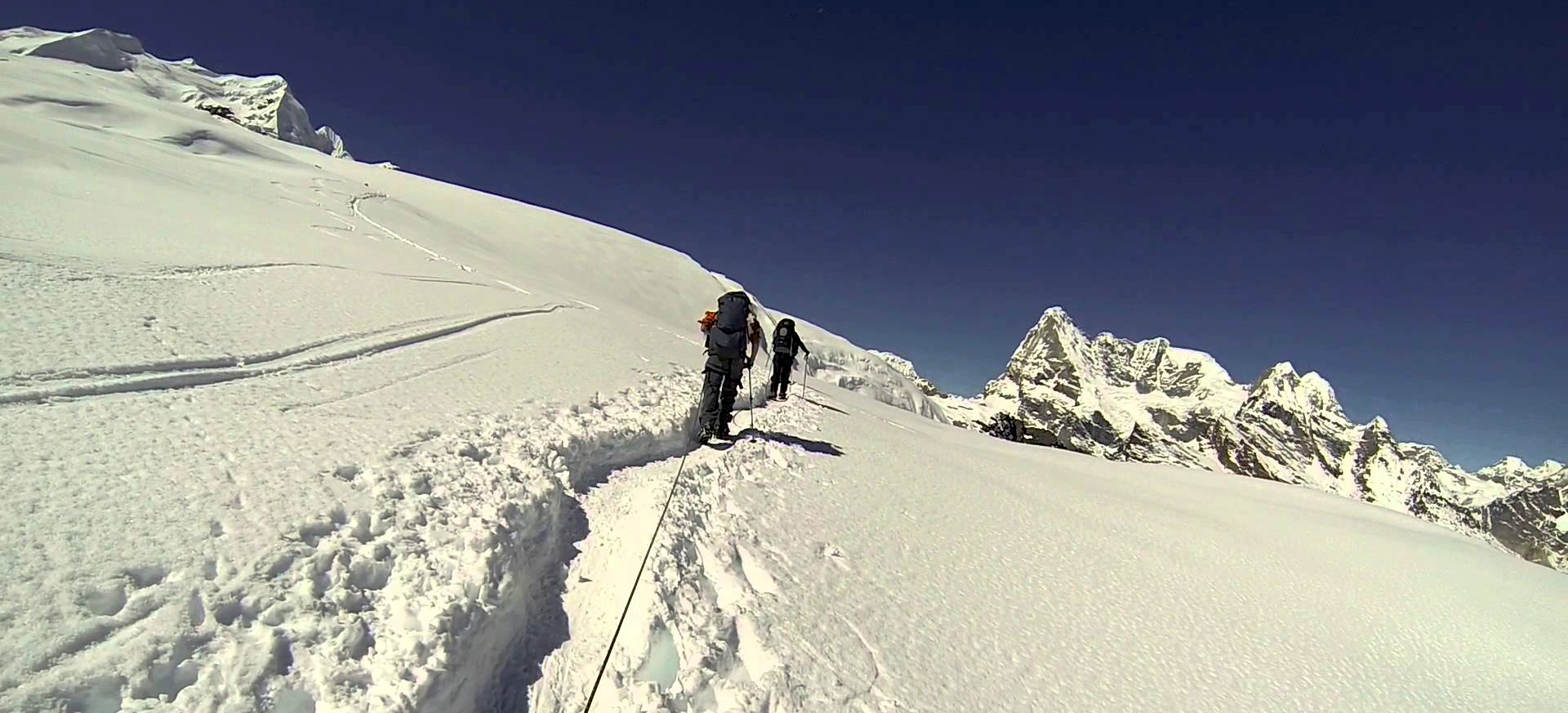 Uncounted climbers were pulled by incredible pictures and stories in books like Himalayan Alpine manner, vertical thrill and evasive Summit, the result that the Mera peak climb is the place with full of weird adventure and to be, if you asked for, to rise the top of Mera peak through its easier routes then it is one of the world's ferocious mountain scenery. After actualizing of Mera peak mountaineers detect the dominant 05 peaks with over 8,000 meters from the top. Namely, Mt Everest, Lhotse, Cho-Oyu, Makalu, and Kanchenjunga that are overruling the intact region. Besides, eight thousanders peak and mountains, mountaineers to Mera peak summit can also sight myriad of six and seven thousanders marvelous snow-clad peaks and delight in, from Mera peak climbing summit.
To some extent, Mera peak climbing in Nepal is effortless for the climbers to undertake adventurous excursion. For the fresh climbers the trail of Mera peak from its north surface is unproblematic. Hiking through the north surface of Mera peak comprises high elevation of snow slide. The contentment of making 6,654 meters of high elevation could be an uncertainty however; the climate and the snow situation should be relevant for safety assurance and triumph for Mera peak summit. If to compare the peak climbing trail of north surface to West and South surface, it is better to exercise through the north surface for Mera peak climbing, due to the most strenuous trail from both West and South face. The West and South trails are technically challenging for the first time climbers and requires well bodied climbers with prior experiences on peak climbing.
The Mera peak climbing trails of this peak climbing trek and excursion locates in the premises of Everest that is also well-known as Khumbu region of Nepal mountaineering. Holding out at the top of Mera peak is partly confronting strenuous and demanding. Thin air above 6000 meters makes inhaling difficult. The body must be given some days to acclimatize before climbing higher. Weather conditions can be uncertain and snow conditions brutal. Concentration, caution, determination and a high level of fitness are required. It's all in the mind, literally. But make no mistake, standing on top of a summit and surveying the world at your feet is inspiring experience and truly rewarding accomplishment – something to be proud of.
The rewards are gratifying and terribly moving. Skyline treks and expedition offers you the chance to climb glaciers and scale 6,654 meters of Mera peaks in the Mahalangur, Himalayan range of Sagarmatha zone, Solukhumbu district and Everest Mountain Regions, with expert guides who have the experience, local knowledge and mountaineering skills to make such endeavors feasible to those with the motivation and a good level of fitness. Just be true to yourself and listen to the needs of your body.
We at Skyline treks and expedition, and as well trekking team granting peak climbing below 7,000 meters together with trekking arrangements round in Nepal's Himalayan regions. During making a choice for peak climbing and trekking plan, please opt your best trekking peak and be in touch with us for more details and costs.