Manaslu Circuit Trek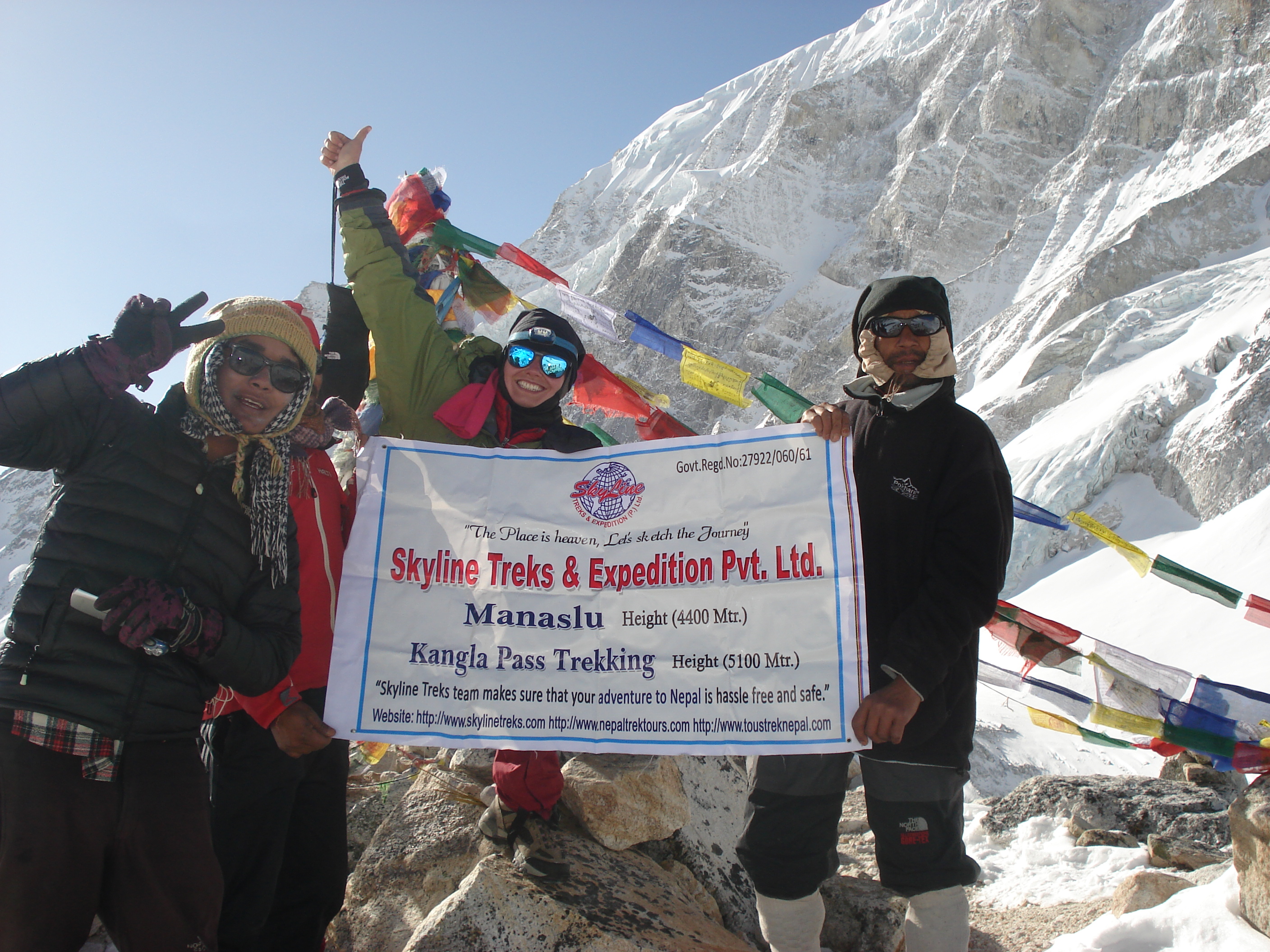 Manaslu Circuit Trek is one of the challenging and newly open treks,measured as restricted area in where, few groups of trekkers do their best to explore long haul journey. While trekking through Manaslu trip you will find it breathtaking and incredibly peerless. In truth, Manaslu region trek will grants you a perfect wide vistas of several high mountains. Enrich culture and the scary adventure has more in store for the trekkers. Stellar moments of this bold trek is passing through the most remarkable valley along with attractive views of Mt. Manaslu (8156 meters). Trails of Manaslu trek drives you nearby the border line of Tibet.where you will get to experience the Tibetan lifestyle, cultural and tradition and we wish it would be marvel at, to our clients.
 Trek to Manaslu Circuit is one of the most challenging and hard trekking in Nepal the trek appease the trekkers with an unique Himalayan areas united with difficult highland.Simply opened in 1922 trek to round Manaslu offers a great variety of enrich treasure of cultural and natural assortment.Manaslu jaunt surpasses through the magnificent snowy peaks, tropical areas, alpine, bamboo, pine trees and greenish-blue lakes makes you amazed.
This untouched orbit trek to Manaslu starts from Gorkha Bazaar and terminates in Besisahar,the initiating point of the Annapurna circuit. The trek afterward pass through the bright greenery, following  small Chhetri villages. Moving northwards, the valley offers charming alpine meadows and small Tibetan villages. Slowly but surely, the trail holds out Samagaon, the largest and most prominent village of the region.
The below given itinerary have few many probabilities; the trek can be longer or shorter, it depends on pace of your walking days. There are fundamental guesthouses all along the trail, , therefore you can choose if you would like to camp or stay at tea-houses/guesthouses. Skyline Treks  kindly impel with our respected visitors.
Please instantly speak to us so we could arrange you a relaxing round Manaslu trip in naturally shining country Nepal
---
Outline Itinerary
| | |
| --- | --- |
| Day 1 | Arrival at Tribhuvan International Airport (TIA) Kathmandu. |
| Day 2 | Full day (6 hrs) guided sightseeing in Pashupatinath, Boudhanath and Patan Durbar Square. |
| Day 3 | Drive to Gorkha (1350m) 6 hr/ Camp (B, L, D) |
| Day 4 | Trek to Khanckock 5 ½ hrs (B, L, D) |
| Day 5 | Trek to Arughat (570m) 5 hrs (B, L, D) |
| Day 6 | Trek to Soti Khola (730m) 5 ½ hrs (B, L, D) |
| Day 7 | Trek to Machha Khola (930m) 5 hrs (B, L, D) |
| Day 8 | Trek to Jagat (1370m) 6 hrs (B, L, D) |
| Day 9 | Trek to Seirishon Goan (1420m) 5 ½ hrs (B, L, D) |
| Day 10 | Trek to Deng (1860m) 5 hrs (B, L, D) |
| Day 11 | Trek to Ghap (2380m) 5 hrs (B, L, D) |
| Day 12 | Trek to Lo (3020m) 5 ½ hrs (B, L, D) |
| Day 13 | Trek to Sama Gompa (3390m) 6 hrs (B, L, D) |
| Day 14 | Trek to Samdo (3690m) 5 ½ hrs (B, L, D) |
| Day 15 | Acclimatization day./ AM climb to Samdo Peak |
| Day 16 | Trek to Guest House/Larke Bazar (4460m) |
| Day 17 | Trek to Tanbuche (3590m) via Larke La pass (5135m) |
| Day 18 | Trek to Karche (2785m) 5 hrs (B, L, D) |
| Day 19 | Trek to Dharapani (1860m) 5 ½ hrs (B, L, D) |
| Day 20 | Trek to Jagat (1300m) 5 hrs (B, L, D) |
| Day 21 | Trek to Nadi (920m) 5 ½ hrs (B, L, D) |
| Day 22 | Trek to Beshi Shahar (760m) 3 hrs & 6 hrs drive to Kathmandu /Hotel. |
| Day 23 | Onward departure to your destination by our private vehicle. |
Day 1
Arrival at Tribhuvan International Airport (TIA) Kathmandu. Welcome with bunch of flower assistance at the Airport and meet with our staff (One of our company staff will be waiting you at the Airport with display your name ".................." which is print on our company white board and pick up by our private car and than 20 minutes drive to the Hotel. After few minutes rest in hotel, Visit in our office and have hot/cold drinks (Tea/Coffee) waiting to serve and have join together, one of our staff will brief you regarding the trip and introduction with your trekking guide. O/N at hotel.
Day 2
Full day (6 hrs) guided sightseeing in Pashupatinath, Boudhanath and Patan Durbar Square. Overnight in Hotel. (B)
Day 3
Drive to Gorkha (1350m) 6 hr/ Camp (B, L, D)
Day 4
Trek to Khanckock 5 ½ hrs (B, L, D)
Day 5
Trek to Arughat (570m) 5 hrs (B, L, D)
Day 6
Trek to Soti Khola (730m) 5 ½ hrs (B, L, D)
Day 7
Trek to Machha Khola (930m) 5 hrs (B, L, D)
Day 8
Trek to Jagat (1370m) 6 hrs (B, L, D)
Day 9
Trek to Seirishon Goan (1420m) 5 ½ hrs (B, L, D)
Day 10
Trek to Deng (1860m) 5 hrs (B, L, D)
Day 11
Trek to Ghap (2380m) 5 hrs (B, L, D)
Day 12
Trek to Lo (3020m) 5 ½ hrs (B, L, D)
Day 13
Trek to Sama Gompa (3390m) 6 hrs (B, L, D)
Day 14
Trek to Samdo (3690m) 5 ½ hrs (B, L, D)
Day 15
Acclimatization day./ AM climb to Samdo Peak (5000m) 5 hrs (B, L, D)
Day 16
Trek to Guest House/Larke Bazar (4460m) 5 ½ hrs (B, L, D)
Day 17
Trek to Tanbuche (3590m) via Larke La pass (5135m) 5 hrs (B, L, D)
Day 18
Trek to Karche (2785m) 5 hrs (B, L, D)
Day 19
Trek to Dharapani (1860m) 5 ½ hrs (B, L, D)
Day 20
Trek to Jagat (1300m) 5 hrs (B, L, D)
Day 21
Trek to Nadi (920m) 5 ½ hrs (B, L, D)
Day 22
Trek to Beshi Shahar (760m) 3 hrs & 6 hrs drive to Kathmandu /Hotel. And than rest of the time for shopping. Join us for the farewell dinner at Nepali typical restaurant in the evening at 07:00 PM with culture program. (B, D)
Day 23
Onward departure to your destination by our private vehicle. 3 hrs before you have to be airport (B)
Abbrebiations: B, L, D means : Breakfast, Lunch and Dinner
Price Includes
Price Excludes
Quick Facts
Best Season: Autumn,Spring
Duration: 23 days
Trekking Days: 18 days
Grade: Moderate
Rating: 5
Maximum Altitude: 5135 m
Commences At: Gorkha
Ends At: Kathmandu
Code: MCT85
Booking Form