Mera peak and island peak climbing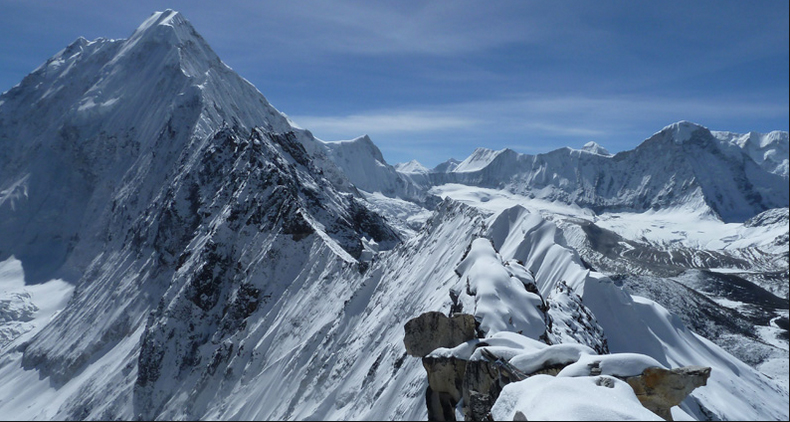 Mera peak and island peak climbing in Nepal is measured as one of the major and popular peak climbing in Nepal . Among 6,000 meters highest peaks of Nepal Mera peak and  island  peak is renowned as highest of all peaks. In essence, Mera peak and island  peak climbing is to face a great challenge. 6476 meters of Mera Peak offer an awesome with breathtaking views of mystic and majestic towering Himalayan range. The Mera peak with island peak both rises to the south of Everest. The climbing excursion is technically straightforward, the heavy snow and maze of crevasses make the way longer to the summit. Besides the charm of climbing both "white Hostess" the trek to its base camp.From Lukla is rewarding for experiencing little-visited and as yet unspoiled region of Nepal with densely forested hill sides.
 Views from on the mountain (and even from high camp) are spectacular the Himalayan giants of Mt. Everest, Lhotse and Makalu (ranked 1, 4 and 5 among the world highest peaks) surround you, with Cho Oyu and Kanchenjunga to either side and a multitude of intervening glaciers.Mountaineers should have the experience of hiking and climbing  the ascents before.It leads towards the most rewarding and adventurous mountaineering experience to the hikers who want to have better experience of hiking the higher ascent.
Before attempting the summit we took a glance to the stunning beauty of the mountains through the height. Forwarding to this adventurous peak expedition is  an individual could apply with a normal physical health.Island Peak so called "Imja tse" at  6189 meters this snowy peak is located in upper Imja valley of  Khumbu. Surrounded by countless of huge Himalayas.South face of Lhotse,Makalu and Baruntse dominate blue horizon.
While,climbing this white lady peak.Personally, coupled with Everest history island peak was named by Eric Shipton in 1952 and the first ascent made in 1953 by British Everest team as their training climb. peak climbing in Nepal is challenging yet within reach for beginning alpine climber and the summit ridge provide. The most visual mornings that any mountaineer might dream of it.       
---
Outline Itinerary
| | |
| --- | --- |
| Day 1 | Arrival at Tribhuvan International Airport (TIA) Kathmandu. Welcome with bunch of flower assistance at the Airport and meet with our staff (One of our company staff will be waiting you at the Airport with display your name ".................." which is print on our company white board and pick up by our private car and than 20 minutes drive to the Hotel. After few minutes rest in hotel, Visit in our office and have hot/cold drinks (Tea/Coffee) waiting to serve and have join together, One of our staff will brief you regarding the trip and introduction with your trekking guide. O/N at hotel. |
| Day 2 | Full day (6 hrs) guided sightseeing in Pashupatinath, Boudhanath and Patan Durbar Square. Overnight in Hotel. (B) |
| Day 3 | 40 minutes Flight from Kathmandu to Lukla (2,715m) and overnight Lodge. (B.L.D) |
| Day 4 | Commence trek to Chutok- (2800m) (5-6 hr).(B.L.D) |
| Day 5 | Trek to Pangkongma - (2950m) (5-6 hr). (B.L.D) |
| Day 6 | Trek to Kurke - (3800m) (5-6 hr). (B.L.D) |
| Day 7 | Trek to Thuli Kharka- (4160m) (2-3 hr) and acclimatization day. (B.L.D) |
| Day 8 | Trek to Kothe, (3691m) Lodge (B.L.D) |
| Day 9 | Trek to Thagnak, (4358m) Lodge (B.L.D) |
| Day 10 | Trek to Khare, (5099m) Lodge (B.L.D) |
| Day 11 | Rest day for acclimatization (Lodge) (B.L.D) |
| Day 12 | Trek to Mera La (5399m) to High Camp (5800m) Tent Camp (B.L.D) |
| Day 13 | High Camp to Summit MERA PEAK (6461m) and returned to High Camp (Tent Camp) (B.L.D) |
| Day 14 | Trek to Panch Pokhari, (5863m) Tent Camp (B.L.D) |
| Day 15 | Trek to Seto Pokhari, Tent Camp (B.L.D) |
| Day 16 | Trek to Golo Pokhari (Hongu Pokhari) (5950m) Cross Amphulaptsa to Amphulaptsa Phedi (5260m) Tent Camp (B.L.D) |
| Day 17 | Trek to Island Peak Base Camp Tent Camp (B.L.D) |
| Day 18 | Trek to Island Peak High Camp Tent Camp (B.L.D) |
| Day 19 | Acclimatization day incase of due to bad weather. Overnight Tent Camp. (B,L,D) |
| Day 20 | Summit the Island Peak (6,189m / 21,210 ft). Return back to Base Camp. Overnight Tent Camp. (B,L,D) |
| Day 21 | Trek Island Peak Base Camp to Dingboche (4,410m) (5 hrs). Overnight Lodge. (B,L,D) |
| Day 22 | Trek Dingboche to Tengboche (3,860m) (4 hrs). Overnight Lodge. (B,L,D) |
| Day 23 | Trek Tengboche to Namche (3,440m) (3 hrs). Overnight Lodge. (B,L,D) |
| Day 24 | Trek Namche to Lukla (2,840m) (5-6 hrs). Overnight Lodge. (B,L,D) |
| Day 25 | Flight from Lukla (2,840m) - Kathmandu (1,310m). Hotel Overnight. (B) |
| Day 26 | Free day in Kathmandu for shopping. Join us for the farewell dinner at Nepali typical restaurant in the evening at 07:00 PM with culture program. (B, D) |
| Day 27 | Onward departure to your destination by our private vehicle. 3 hrs before you have to be airport (B) |
Day 1
Arrival at Tribhuvan International Airport (TIA) Kathmandu. Welcome with bunch of flower assistance at the Airport and meet with our staff (One of our company staff will be waiting you at the Airport with display your name ".................." which is print on our company white board and pick up by our private car and than 20 minutes drive to the Hotel. After few minutes rest in hotel, Visit in our office and have hot/cold drinks (Tea/Coffee) waiting to serve and have join together, One of our staff will brief you regarding the trip and introduction with your trekking guide. O/N at hotel.
Day 2
Full day (6 hrs) guided sightseeing in Pashupatinath, Boudhanath and Patan Durbar Square. Overnight in Hotel. (B)
Day 3
40 minutes Flight from Kathmandu to Lukla (2,715m) and overnight Lodge. (B.L.D)
Day 4
Commence trek to Chutok- (2800m) (5-6 hr).(B.L.D)
Day 5
Trek to Pangkongma - (2950m) (5-6 hr). (B.L.D)
Day 6
Trek to Kurke - (3800m) (5-6 hr). (B.L.D)
Day 7
Trek to Thuli Kharka- (4160m) (2-3 hr) and acclimatization day. (B.L.D)
Day 8
Trek to Kothe, (3691m) Lodge (B.L.D)
Day 9
Trek to Thagnak, (4358m) Lodge (B.L.D)
Day 10
Trek to Khare, (5099m) Lodge (B.L.D)
Day 11
Rest day for acclimatization (Lodge) (B.L.D)
Day 12
Trek to Mera La (5399m) to High Camp (5800m) Tent Camp (B.L.D)
Day 13
High Camp to Summit MERA PEAK (6461m) and returned to High Camp (Tent Camp) (B.L.D)
Day 14
Trek to Panch Pokhari, (5863m) Tent Camp (B.L.D)
Day 15
Trek to Seto Pokhari, Tent Camp (B.L.D)
Day 16
Trek to Golo Pokhari (Hongu Pokhari) (5950m) Cross Amphulaptsa to Amphulaptsa Phedi (5260m) Tent Camp (B.L.D)
Day 17
Trek to Island Peak Base Camp Tent Camp (B.L.D)
Day 18
Trek to Island Peak High Camp Tent Camp (B.L.D)
Day 19
Acclimatization day incase of due to bad weather. Overnight Tent Camp. (B,L,D)
Day 20
Summit the Island Peak (6,189m / 21,210 ft). Return back to Base Camp. Overnight Tent Camp. (B,L,D)
Day 21
Trek Island Peak Base Camp to Dingboche (4,410m) (5 hrs). Overnight Lodge. (B,L,D)
Day 22
Trek Dingboche to Tengboche (3,860m) (4 hrs). Overnight Lodge. (B,L,D)
Day 23
Trek Tengboche to Namche (3,440m) (3 hrs). Overnight Lodge. (B,L,D)
Day 24
Trek Namche to Lukla (2,840m) (5-6 hrs). Overnight Lodge. (B,L,D)
Day 25
Flight from Lukla (2,840m) - Kathmandu (1,310m). Hotel Overnight. (B)
Day 26
Free day in Kathmandu for shopping. Join us for the farewell dinner at Nepali typical restaurant in the evening at 07:00 PM with culture program. (B, D)
Day 27
Onward departure to your destination by our private vehicle. 3 hrs before you have to be airport (B)
Abbrebiations: B, L, D means : Breakfast, Lunch and Dinner
Price Includes
Price Excludes
Quick Facts
Best Season:
Duration:
Trekking Days:
Grade:
Rating:
Maximum Altitude:
Commences At:
Ends At:
Code:
Booking Form