Kathmandu Pokhara Chitwan Jungle Safari Tour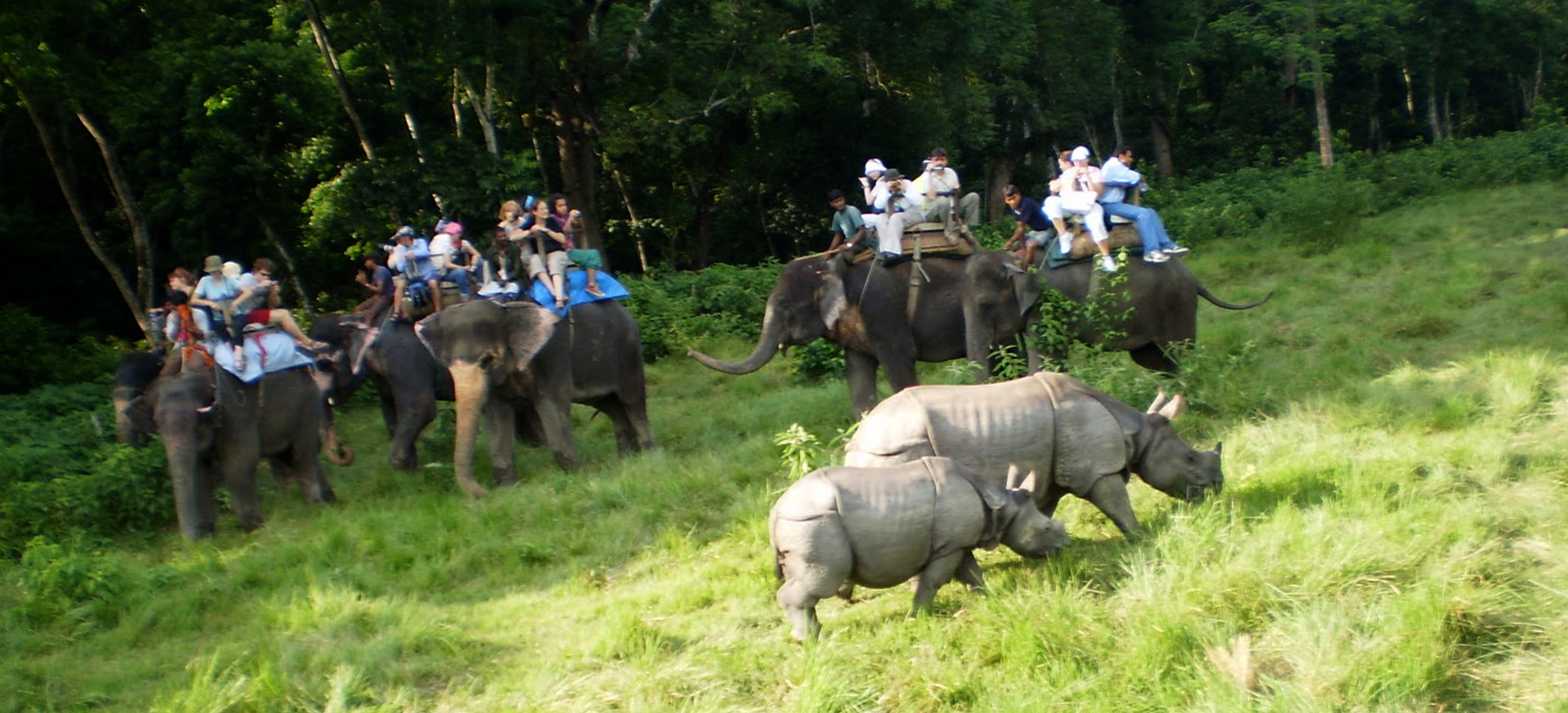 Kathmandu Pokhara Chitwan Jungle Safari Tour the world Heritage site of Nepal and the most passionate and sizzling oasis to the visitors for magnificent tour. Chitwan is prominently renowned for 'Chitwan National park' and was accepted at the date of 1973. Chitwan national Park accorded the category of world Heritage site in 1984 and is the 1st national park of Nepal occupying the area of 932 km.
The attribute of world heritage site is to be found in the southern central Terai of Nepal. At the Foot of the Himalayas Chitwan is nuzzled and as well as the place is specifically enrich for worthy of attention flora and fauna. The noteworthy place Chitwan is abode to one of the endmost inhabitant's one –horned rhinoceros and as well infrequent asylum Bengal tiger. The property of Nepal is extremely existing precedent for the natural ecosystem of the Terai region.
Tour so as to approach of Chitwan is at all times bringing forward excessive bewitching of its surroundings such as, the most well demanded elephant safari, canoeing trip, jungle hike, visit to racial local people resident, perform of the cultural dance by ethnic group of peoples, jeep drive visit to heartfelt sunset point and much more. As a result, Chitwan is also celebrated as 'Spirit of Jungle'. Skyline Treks leave no stone unturned to endow you a most rewarding tour to Chitwan with the company competence guide for your outstanding amenities.
---
Outline Itinerary
| | |
| --- | --- |
| Day 1 | Arrival at Tribhuvan International Airport (TIA) Kathmandu. |
| Day 2 | Full day guided sightseeing in Pashupatinath, Boudhanath & Swoyambhunath (Monkey Temple) o/n at Hotel (B) |
| Day 3 | 7 hrs drive or 30 minutes flight to Pokhara and check in hotel. Rest of the time boating in Phewa Lake. Overnight in Hotel (B) |
| Day 4 | Full day guided Sightseeing in Devi's fall, Gupteshwor Cave, Seti George, Bat Cave, International Mountain Museum and visit World Peace Stupa for the best sunset panoramic view. Overnight in Hotel (B) |
| Day 5 | Sightseeing in Bindhyabasini (Hindu) temple and Mahendra Cave and back to Hotel (B) |
| Day 6 | Pokhara to Chitwan 4 hrs drive for a safari in the pristine jungles of the Chitwan National Park, Asia most well-preserved wildlife habitat. And then check in hotel reception, welcome drinks and introduction to your room. Freshen up and briefing session. Lunch (L) Cultural Tour (To Visit Tharu Village) Riverside Sunset view Tharu stick dance Dinner (D) |
| Day 7 | Wakeup Call Tea/ Coffee Bird Watching Breakfast (B), Departure to Kathmandu 5 hrs drive by and transfer to the Hotel. |
| Day 8 | Sightseeing in Kathmandu Durbar Square and visit in local typical market with souvenir goods (Ason), Indrachowk. Rest of the time for shopping. Join us for the farewell dinner at Nepali typical restaurant in the evening at 07:00 PM with culture program. (B, D) |
| Day 9 | Onward departure to your destination by our private vehicle. 3 hrs before you have to be airport (B) |
Day 1
Arrival at Tribhuvan International Airport (TIA) Kathmandu. Welcome with bunch of flower assistance at the Airport and meet with our staff (One of our company staff will be waiting you at the Airport with display your name ".................." which is print on our company white board and pick up by our private vehicle and than 20 minutes drive to the Hotel. After few minutes rest in hotel, Visit in our office and have hot/cold drinks (Tea/Coffee) waiting to serve and have joined together, one of our company staff will brief you regarding the trip and introduction with your tour guide. O/N at hotel.
Day 2
Full day guided sightseeing in Pashupatinath, Boudhanath & Swoyambhunath (Monkey Temple) o/n at Hotel (B)
Day 3
7 hrs drive or 30 minutes flight to Pokhara and check in hotel. Rest of the time boating in Phewa Lake. Overnight in Hotel (B)
Day 4
Full day guided Sightseeing in Devi's fall, Gupteshwor Cave, Seti George, Bat Cave, International Mountain Museum and visit World Peace Stupa for the best sunset panoramic view. Overnight in Hotel (B)
Day 5
Sightseeing in Bindhyabasini (Hindu) temple and Mahendra Cave and back to Hotel (B)
Day 6
Pokhara to Chitwan 4 hrs drive for a safari in the pristine jungles of the Chitwan National Park, Asia most well-preserved wildlife habitat. And then check in hotel reception, welcome drinks and introduction to your room. Freshen up and briefing session. Lunch (L) Cultural Tour (To Visit Tharu Village) Riverside Sunset view Tharu stick dance Dinner (D)
Day 7
Wakeup Call Tea/ Coffee Bird Watching Breakfast (B), Departure to Kathmandu 5 hrs drive by and transfer to the Hotel.
Day 8
Sightseeing in Kathmandu Durbar Square and visit in local typical market with souvenir goods (Ason), Indrachowk. Rest of the time for shopping. Join us for the farewell dinner at Nepali typical restaurant in the evening at 07:00 PM with culture program. (B, D)
Day 9
Onward departure to your destination by our private vehicle. 3 hrs before you have to be airport (B)
Abbrebiations: B, L, D means : Breakfast, Lunch and Dinner
Price Includes
- Airport pickup and drop off by our private vehicle
- Kathmandu/Pokhara Hotel room on bed with Breakfast (B) basis
- Fluent English speaking license holder local sightseeing tour guide
- Sightseeing tour guide and his fee
- Sightseeing entrance fee
- All land transfer as per above itinerary by our private vehicle
- Chitwan Hotel room with all accommodation such as Breakfast, Lunch and Dinner (B, L, D) basis.
 - Chitwan Package Program and all activities (Tharu village tour with best Sunset view,  Tharu stick dance cultural program, Canoeing Ride, Visit Elephant Breeding Center, Elephant Back safari, Bird Watching etc...)
- Chitwan National Park entrance fees.
- Wage, equipment, insurance and other facilities to staff.
- Farewell dinner at Nepali typical restaurant with culture program
Price Excludes
- Nepal tourist visa fee US$ 40, with multiple entries for 30 days, you may easily issue the visa upon your arrival at Tribhuwan International Airport Kathmandu. (it will be ready within few minutes) You will require each 2 passport size photos.
- Kathmandu/Pokhara hotel Lunch and Dinner (L, D)
- Domestic Airfare from Kathmandu to Pokhara (If you required)
- Domestic airfare from Chitwan (Bharatpur) to Kathmandu (If you required)
- Personal Spending money and all kind of drinks (Alcoholic, hot and cold drinks) bar bill, Int'l Telephone bill, laundry etc. Tips for guide and driver. (Tipping is expected).
- Travel Insurance and medical evacuation in case of emergency
Quick Facts
Best Season: Autumn,Spring,Summer.
Duration: 09 days
Trekking Days: 06 days
Grade: Easy
Rating: Normal
Maximum Altitude: 1310 m
Commences At: Kathmandu
Ends At: Kathmandu
Code: PCJS61
Booking Form