Chitwan National Park Jungle Safari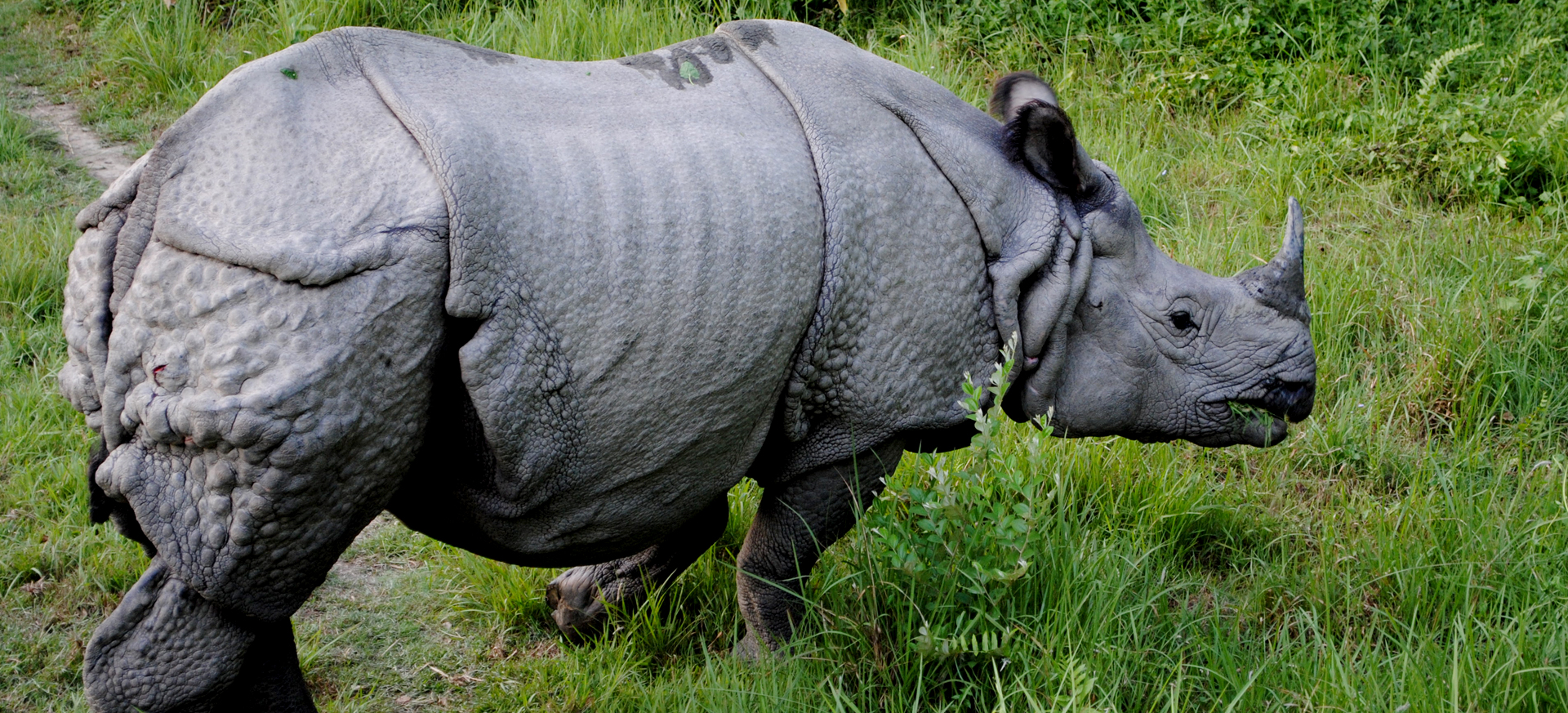 Chitwan National Park Jungle Safari country's first national park, 'Chitwan National Park' has also been UNESCO's world heritage site since 1984. The park lies in the sub-tropical lowlands of inner Terai region, covering the area of 932 km square. Chitwan national park boasts diversed ecosystems, including the Churia hilla, oxbow lakes and the flood plains of the Rapti, Rue and Narayani rivers.
 What makes Chitwan National Park it ideal for Jungle safari?
The park has a range of climatic seasons, each offering a unique experience. October through February with an average temperature of 250C offers an enjoyable Chitwan National park is home to more than 60 mammal species, 55 amphibians and 56 reptiles, and 126 fish. Most importantly it's a sanctuary for one-horned rhinoceros; If you are lucky enough you might as well enjoy a glimpse of these during elephant and Jungle safari via Jeep.
You get to explore the lush green forests and its species through an elephant safari; one may also get a glimpse of elusive Bengal tiger. The park is home for not only the world's largest terrestrial mammal (wild elephant) but also the world's smallest terrestrial mammal (pygmy shrew).A total of 544 species of birds have been recorded, which includes 22 globally threatened species.
Critically endangered Bengal Florican, Slender-billed Vulture, White-rumped Vulture and Red-headed Vulture are also found here. The park has a display at the 'Visitor Centre at Sauraha' which provides fascinating information on wildlife and conservation programs. The Elephant Breeding Center at Khorsor, Sauraha provides you information on domesticated elephant and one can also have a look on baby elephants born there.  Meanwhile, the Gharial Breeding Center, is also home to Marsh mugger (Crocodyluspalustris ="crocodile of the marsh") and many turtles.
There are many things that you can involve yourself in Sauraha, from watching the sunset and sunrise from the Narayani river beach, to relaxing in spa & resorts within the jungle territory. Holidaying in Chitwan National Park Jungle Safari with friends and family is an experience.
---
Outline Itinerary
| | |
| --- | --- |
| | |
| Day 1 | Arrival at Tribhuvan International Airport (TIA) Kathmandu. |
| Day 2 | Kathmandu to Chitwan 5 hrs drive by tourist bus for a safari in the pristine jungles of the Chitwan National Park, Asia most well-preserved wildlife habitat. |
| Day 3 | Wakeup Call Tea/ Coffee Bird Watching |
| Day 4 | Onward departure to the Airport by our private car. 3 hrs before you have to be airport (B) |
| | |
| Day 1 | Arrival at Tribhuvan International Airport (TIA) Kathmandu. |
| Day 2 | Kathmandu to Chitwan 5 hrs drive by tourist bus for a safari in the pristine jungles of the Chitwan National Park |
| Day 3 | Wakeup Call Breakfast (B) |
| Day 4 | Wakeup Call Tea/ Coffee |
| Day 5 | Onward departure to the Airport by our private car. 3 hrs before you have to be airport (B) |
| | |
| Day 1 | Arrival at Tribhuvan International Airport (TIA) Kathmandu. |
| Day 2 | Kathmandu to Chitwan 5 hrs drive for a safari in the pristine jungles of the Chitwan National Park, |
| Day 3 | Wakeup Call Breakfast (B) |
| Day 4 | Nature walking or Mountain biking or Jeep drive to Twenty thousand Lake (Bish Hajari Tal) |
| Day 5 | Wakeup Call Tea/ Coffee |
| Day 6 | Onward departure to the Airport by our private car. 3 hrs before you have to be airport (B) |
3 nights 4 days Program
Day 1
Arrival at Tribhuvan International Airport (TIA) Kathmandu. Welcome with bunch of flower assistance at the Airport and meet with our staff (One of our company staff will be waiting you at the Airport with display your name ".................." which is print on our company white board and pick up by our private vehicle and than 20 minutes drive to the Hotel. After few minutes rest in hotel, Visit in our office and have hot/cold drinks (Tea/Coffee) waiting to serve and have joined together, One of our staff will brief you regarding the trip. O/N at hotel.
Day 2
Kathmandu to Chitwan 5 hrs drive by tourist bus for a safari in the pristine jungles of the Chitwan National Park, Asia most well-preserved wildlife habitat. And then check in hotel reception, welcome drinks and introduction to your room. Freshen up and briefing session. Lunch (L) Cultural Tour (To Visit Tharu Village) Riverside Sunset view Tharu stick dance Dinner (D)
Day 3
Wakeup Call Tea/ Coffee Bird Watching Breakfast (B), Departure to Kathmandu or Pokhara 5 hrs drive by tourist bus and transfer to the Hotel. Rest of the time for shopping.
Day 4
Onward departure to the Airport by our private car. 3 hrs before you have to be airport (B)
4 nights 5 days Program
Day 1
Arrival at Tribhuvan International Airport (TIA) Kathmandu. Welcome with bunch of flower assistance at the Airport and meet with our staff (One of our company staff will be waiting you at the Airport with display your name ".................." which is print on our company white board and pick up by our private vehicle and than 20 minutes drive to the Hotel. After few minutes rest in hotel, Visit in our office and have hot/cold drinks (Tea/Coffee) waiting to serve and have joined together, One of our staff will brief you regarding the trip. O/N at hotel.
Day 2
Kathmandu to Chitwan 5 hrs drive by tourist bus for a safari in the pristine jungles of the Chitwan National Park, Asia most well-preserved wildlife habitat. And then check in hotel reception, welcome drinks and introduction to your room. Freshen up and briefing session. Lunch (L) Cultural Tour (To Visit Tharu Village) Riverside Sunset view Tharu stick dance Dinner (D)
Day 3
Wakeup Call Breakfast (B) Canoeing Ride and Elephant Breeding Center Visit. Lunch (L) Elephant Back safari Dinner. (D)
Day 4
Wakeup Call Tea/ Coffee Bird Watching Breakfast (B), Departure to Kathmandu or Pokhara 5 hrs drive by tourist bus and transfer to the Hotel. Rest of the time for shopping.
Day 5
Onward departure to the Airport by our private car. 3 hrs before you have to be airport (B)
5 nights 6 days Program
Day 1
Arrival at Tribhuvan International Airport (TIA) Kathmandu. Welcome with bunch of flower assistance at the Airport and meet with our staff (One of our company staff will be waiting you at the Airport with display your name ".................." which is print on our company white board and pick up by our private vehicle and than 20 minutes drive to the Hotel. After few minutes rest in hotel, Visit in our office and have hot/cold drinks (Tea/Coffee) waiting to serve and have joined together, One of our staff will brief you regarding the trip. O/N at hotel.
Day 2
Kathmandu to Chitwan 5 hrs drive for a safari in the pristine jungles of the Chitwan National Park, Asia most well-preserved wildlife habitat. And then check in hotel reception, welcome drinks and introduction to your room. Freshen up and briefing session. Lunch (L) Cultural Tour (To Visit Tharu Village) Riverside Sunset view Tharu stick dance Dinner (D)
Day 3
Wakeup Call Breakfast (B) Canoeing Ride and Elephant Breeding Center Visit. Lunch (L) Elephant Back safari Dinner. (D)
Day 4
Nature walking or Mountain biking or Jeep drive to Twenty thousand Lake (Bish Hajari Tal)
Day 5
Wakeup Call Tea/ Coffee Bird Watching Breakfast (B), Departure to Kathmandu or Pokhara 5 hrs drive by tourist bus and transfer to the Hotel. Rest of the time for shopping.
Day 6
Onward departure to the Airport by our private car. 3 hrs before you have to be airport (B)
Abbrebiations: B, L, D means : Breakfast, Lunch and Dinner
Price Includes
- Airport Pick up and drop off by our private vehicle
- Kathmandu hotel room on bed and Breakfast (B) basis
- Chitwan Hotel room with all accommodation such as Breakfast, Lunch and Dinner (B, L, D) basis.
 - Chitwan Package Program and all activities (Tharu village tour with best Sunset view,
- Tharu stick dance cultural program, Canoeing Ride, Visit Elephant Breeding Center, Elephant Back safari, Bird Watching etc...)
- Chitwan National Park entrance fees.
- All land transfer as per above itinerary
Price Excludes
- Nepal tourist visa fee US$ 40, with multiple entries for 30 days, you may easily issue the visa upon your arrival at Tribhuwan International Airport Kathmandu. (it will be ready within few minutes) You will require each 2 passport size photos.
- Kathmandu hotel Lunch and Dinner (L, D)
- Personal Spending money and all kind of drinks (Alcoholic, hot and cold drinks) bar bill, Int'l Telephone bill, laundry etc. Tips for Jungle guide and driver. (Tipping is expected).
- Domestic airfare from Chitwan (Bharatpur) to Kathmandu (If you required)
- Travel Insurance and medical evacuation in case of emergency
Quick Facts
Best Season: March to June and September to December
Duration: 3 Night/4 Days
Trekking Days:
Grade: Easy
Rating: Normal
Maximum Altitude: 1310 m
Commences At: Kathmandu
Ends At: Kathmandu
Code: CNT64
Booking Form