Bhutan Druk Path Trekking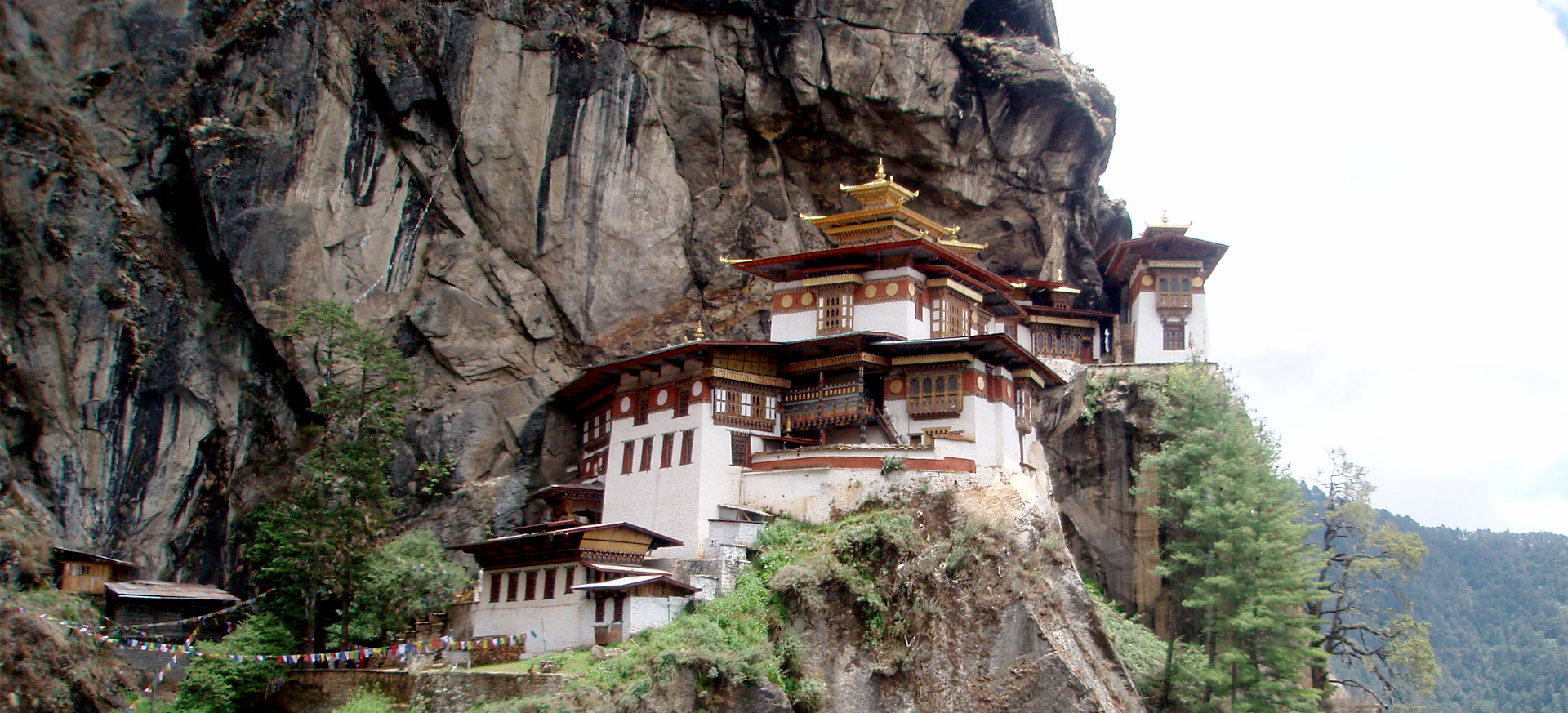 Bhutan Druk Path trekking is a short eleven days trek, which leads from Paro to Thimphu or vice versa, crossing the chain of mountains that separates the two beautiful valleys. Although the route is sparsely inhabited, there are wonderful lakes teeming with fish and the area is famous for its spectacular rhododendron forests, which bloom in May. In the clear weather of late autumn and winter there are great views of the Himalayas in Bhutan.
Our Bhutan exploration begins with a hike to Taktsang monastery ( the tiger's nest). This helps you in getting acclimatized for trekking to Drugyal dzong, Shana Shana, Soi Thangthangkha, Jangothang, Dumzo Dhumzo, Thombu Shong, Shana Zam and then back to Drugyal dzong.
Breathtaking views of towering rugged peaks like Chomolhari (7320 m), Jichu Drake (6900m) and Tshrim Khang, ruined forts, pristine villages, rivers, lakes, lush forests of oak, pine, rhododendron and spruce and abundant wildlife provide the trip with constantly changing sceneries and experiences along with a special connection with nature.
This 11 day tour and trek gives you exhilarating and rewarding way to experience some of the most captivating and wondrous areas of Bhutan.
---
Outline Itinerary
| | |
| --- | --- |
| Day 1 | Arrive Paro by Druk Air. |
| Day 2 | HIKE TO TAKTSANG MONASTERY |
| Day 3 | TREK FROM DRUGYAL DZONG TO SHANA |
| Day 4 | TREK FROM SHANA TO SOI THANGTHANGKHA |
| Day 5 | TREK FROM SOI THANGTHANGKHA TO JANGOTHANG |
| Day 6 | A REST DAY IN JANGOTHANG |
| Day 7 | TREK FROM JANGOTHANG TO DUMZO |
| Day 8 | TREK FROM DUMZO TO THOMBU SHONG |
| Day 9 | TREK FROM THOMBU SHONG TO SHANA ZAM |
| Day 10 | TREK FROM SHANA ZAM TO DRUGYAL DZONG AND DRIVE TO PARO |
| Day 11 | DEPARTURE FROM PARO/BANGKOK or KATHMANDU – the choice of destination is yours, we reckon. |
Day 1
Our Paro flight on a clear blue sky day is one of those fantastic mountain flights of a natural kind. One can see Mt. Everest, Kanchenjunga, Makalu and other peaks in Bhutan such as Chomolhari, Jichu Drake and Tsering Ghang. The first most welcome thing about Bhutan will be cool, clean fresh air as you step out of the aircraft. On arrival at Paro airport, you will be greeted by our representative and transferred to your hotel. Later in the day take an exploratory walk getting acquainted with the local environment. Overnight at your hotel in Paro – B. L. D
Day 2
We can arrange Horses for an extra US $ 5/- for the hike which is all the way uphill takes about 2 /3 hours through villages and pine forests. The monastery which clings to a huge granite cliff 800 meters from the Paro valley was devastated by fire in 1998 but the Royal Government has taken immediate steps to restore the monastery to its original structure. It is believed that the great saint Padmasambhava came in the 7th century on a flying tigress and meditated in a cave for 3 months. The demons were subdued who were trying to stop the spread of Buddhism and converted the Paro valley into Buddhism. During the end of the 17 century a monastery was built on the spot where the saint meditated and it is a pilgrimage site for every Bhutanese to visit once in their life time. Hike back to our hotel for the night – B. L. D
Day 3
Our hike starts from Drugyal dzong – Shana, and the walking distance is 16 Km and would take something like 5/6 hours. The path leads down to the Pa chu river and runs on the left side passing villages and dotted farmlands. Before reaching the camp we will cross a military camp and trekking permits have to be produced. A nice campsite known as Shana Zam at an altitude of 2800m is located just beyond the military camp. We haul up here for the night. B. L. D
Day 4
The trail again follows the Pachu River ascending through pine, oak and spruce forest. Lunch will be served near a wooden bridge. The camp is at an altitude of 3800 meters near a stone shelter. Our Walking time will be 7/8 hours. B. L. D
Day 5
We hike from Soi Thangthangkha – Jangothang and the walking distance is 12 Km which takes about 4/5 hours. The path ascends for a while till we reach an army camp. After a kilometer, we pass a village called Jampu towards the north. From here we will be above the tree line enjoying the eye-catching views of the Rocky Mountains. We occasionally pass by solitary houses of the yak herders before we finally reach the old ruins of the fort known as Jangothang at an altitude of 4050m with a community hall. This is also the Chomolhari base camp. We haul up here for the night. B. L. D
Day 6
Jangothang haul up – Options: Excursion to a nameless view point at an altitude of 5250m offering beautiful views of Mt. Chomolhari & Kungphu. It is also possible for us to do some fishing at the Tshophu Lake filled with giant rainbow trout's provided clients bring their own equipment or simply relax at the camp. B. L. D
Day 7
The walking distance is 18 kilometers which takes about 6/7 hours crossing a pass known as Bhonte la at an altitude of 4900m. This day offers beautiful views of Mt. Chomolhari, Kungphu, Jichu Drake from the two lakes and enjoy the wonderful landscapes. The ascent is about 800m in altitude, the descent 1,090m in altitude. Before reaching the camp we will pass the Soi Yaksa village and one kilometer further cross a bridge to reach the campsite at an altitude of 3800m. B. L. D
Day 8
The walking distance is 13 kilometers and lasts for about 5/6 hours at an even pace. This stage offers a lot of scenic beauty. You will have good views into the valley and from the Thombu la pass at an altitude of 4520m views of Chomolhari and Jichu Drake can be seen. From the pass it's all the way down hill till camp at an altitude of 4180m situated above the tree line. The difference in altitude (ascent) is 700m. We crash out here for the night. B. L. D
Day 9
The hiking distance for 15 kilometers is about a 5/6 hours walk, we reckon. The first part, especially the walk on the ridge offers beautiful views partly to the mighty ice giants in the Chomolhari region. The second part consists of a steep descent which lacks interesting views. At end of the descent we will come across the same military camp as we entered. Many possible camp sites can be found if we walk further down. We make our choice and bunk out for the night. B. L. D
Day 10
Our Vehicle will be awaiting our return at Drugyel Dzong and from here onwards, we proceed to our resort. O/n resort – B. L. D
Day 11
DEPARTURE FROM PARO/BANGKOK or KATHMANDU – the choice of destination is yours, we reckon.
Abbrebiations: B, L, D means : Breakfast, Lunch and Dinner
Price Includes
Hotel accommodation on twin sharing basis; single supplement is available upon request with extra surcharge as applicable.
Meals; B=Breakfast, L=Lunch; D=Dinner and evening tea with biscuits.
Transport within Bhutan.
Trekking equipment like sleeping bag, dining tents, kitchen tents, toilet tents, mattresses, etc.
Services of experienced licensed English speaking guides.
Trekking cooks and trek assistant.
supply of pack and riding ponies.
Bhutan visa fees.
Royalty and taxes.
Price Excludes
Departure Tax where applicable.
Air fare.
Travel insurance.
Rescue operations by helicopters.
Excess baggage charges.
Mineral water, soft drinks and any alcoholic beverages, cigarettes, laundry, telephone calls, tips and any other personal expenses.
Nepal Visa (if entering Bhutan through Nepal)
Any services in Kathmandu/Nepal (hotels, transport, etc)
Any cost arising from political disturbances, strikes, cancellation of flights, deviation in program, delays due to landslides/ road blockage or otherwise.
Quick Facts
Best Season: Autumn,Spring
Duration: 11 days
Trekking Days: 09 days
Grade: Easy
Rating: Normal
Maximum Altitude: 3000 m
Commences At: Kathmandu
Ends At: Kathmandu
Code: BDPT82
Booking Form