Bardia National Park Jungle Safari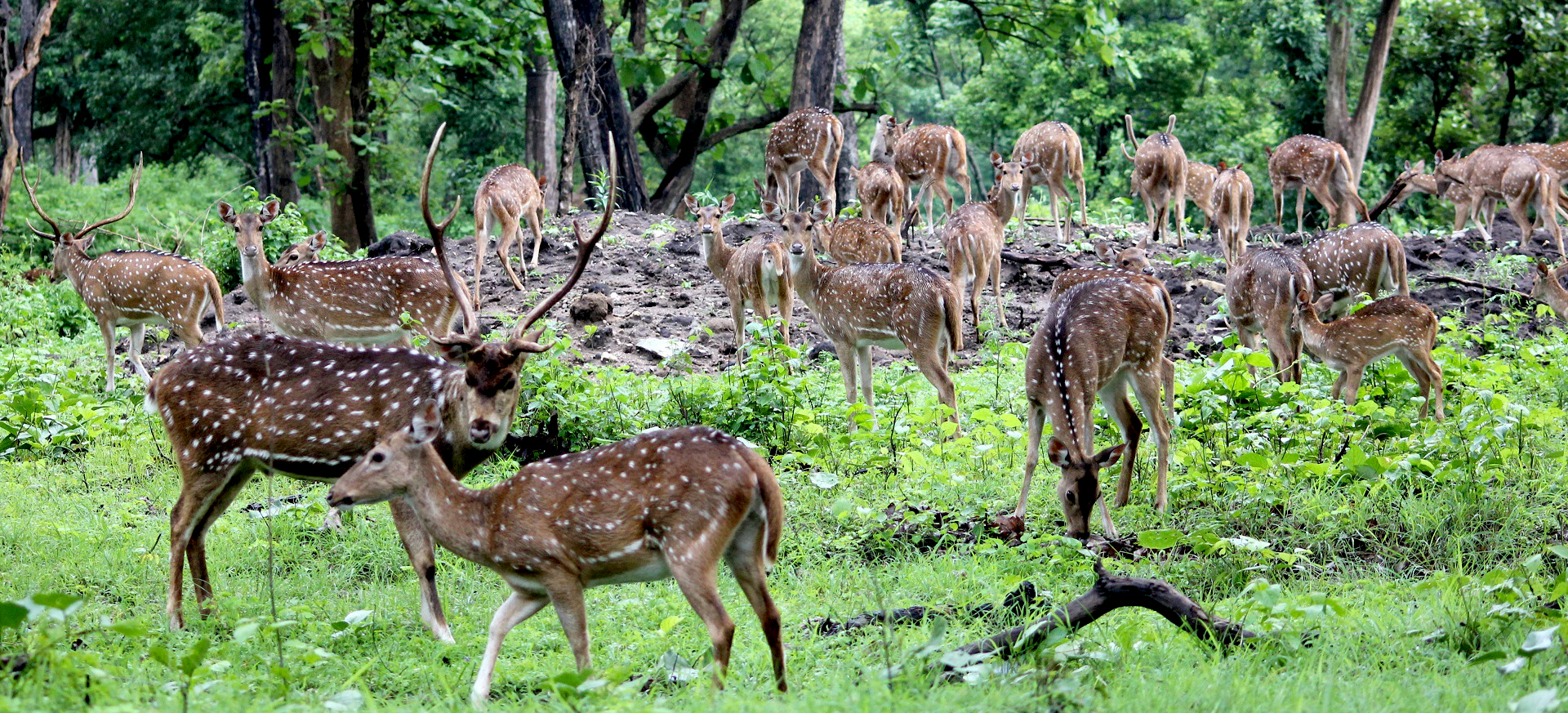 Bardia National Park Jungle Safari is yet another protected area of Nepal that covers the largest lowland with the area of 969 km square. The park is world-famous for alluvial grasslands, subtropical moist deciduous forests and rich wildlife.
What makes Bardia National Park ideal for Jungle Safari?
The park is home to faunal diversity of 53 mammals including mega herbivores like Rhinoceros Unicornis, Elephas Maximus, more than 25 species of reptiles, over 500 species of birds, 125 species of fishes and unknown diversity of mollusks and arthopods.  Birds including storks, geese, jungle fowls, king-fisher and endangered species such as Bengal florican, Silver eared meisa and the saurus crane are found here. 
Bardia National Park Jungle Safari makes the park highly attractive for bird lovers. You also get to explore unique flora, fauna and exotic landscapes and indigenous culture of buffer zone communities in the park. Vast grasslands within the park are an excellent place for game viewing. Many forest tracks throughout the park are also suitable for viewing games.
---
Outline Itinerary
| | |
| --- | --- |
| | |
| Day 1 | Arrival at Tribhuvan International Airport (TIA) Kathmandu. |
| Day 2 | Kathmandu to Nepalgunj 40 minutes by flight and Our staff will receive you upon arrival at Nepalgunj Airport or Ambassa point. |
| Day 3 | AM Breakfast & Elephant back safariPM Jungle walk to explore the hidden wildlifePM western Nepal aboriginal tharu dinner dance. |
| Day 4 | AM Early morning bird watching and departure to Kathmandu 40 minutes by Flight. |
| Day 5 | Onward departure to the Airport by our private car. 3 hrs before you have to be airport (B) |
| | |
| Day 1 | Arrival at Tribhuvan International Airport (TIA) Kathmandu. |
| Day 2 | Kathmandu to Nepalgunj 40 minutes by flight and Our staff will receive you upon arrival at Nepalgunj Airport or Ambassa point. |
| Day 3 | AM Breakfast & Elephant back safari. |
| Day 4 | AM Breakfast |
| Day 5 | AM Early morning bird watching and departure to Kathmandu 40 minutes by Flight. |
| Day 6 | Onward departure to the Airport by our private car. 3 hrs before you have to be airport (B) |
| | |
| Day 1 | Arrival at Tribhuvan International Airport (TIA) Kathmandu. |
| Day 2 | Kathmandu to Nepalgunj 40 minutes by flight and Our staff will receive you upon arrival at Nepalgunj Airport or Ambassa point. |
| Day 3 | AM Breakfast & Elephant back Safari. PM Half Day Jungle Walk |
| Day 4 | AM Breakfast & Whole day Jungle Walking with pack lunch (tiger, rhino, elephant area) & dolphin side, swim in the same time. |
| Day 5 | AM Breakfast & whole day Wild Rafting inside the park, explore the aquatic, riverine, and deep jungle. PM western Nepal aboriginal tharu dinner dance. |
| Day 6 | AM Early morning bird watching and departure to Kathmandu 40 minutes by Flight. Rest of the time for shopping |
| Day 7 | Onward departure to the Airport by our private car. 3 hrs before you have to be airport (B) |
4 Nights/5 Days Itinerary
Day 1
Arrival at Tribhuvan International Airport (TIA) Kathmandu. Welcome with bunch of flower assistance at the Airport and meet with our staff (One of our company staff will be waiting you at the Airport with display your name ".................." which is print on our company white board and pick up by our private vehicle and than 20 minutes drive to the Hotel. After few minutes rest in hotel, Visit in our office and have hot/cold drinks (Tea/Coffee) waiting to serve and have joined together, One of our staff will brief you regarding the trip. O/N at hotel.
Day 2
Kathmandu to Nepalgunj 40 minutes by flight and Our staff will receive you upon arrival at Nepalgunj Airport or Ambassa point. You will be then transferred to our hotel, then relax in our tharu hut, welcome drinks. AM/PM Breakfast / Lunch PM Tharu village tour to discover the hidden culture, visit to crocodile breeding centre, elephant camp PM Dinner and overnight stay.
Day 3
AM Breakfast & Elephant back safariPM Jungle walk to explore the hidden wildlifePM western Nepal aboriginal tharu dinner dance.
Day 4
AM Early morning bird watching and departure to Kathmandu 40 minutes by Flight.
Day 5
Onward departure to the Airport by our private car. 3 hrs before you have to be airport (B)
5 Nights/ 6 Days Itinerary
Day 1
Arrival at Tribhuvan International Airport (TIA) Kathmandu. Welcome with bunch of flower assistance at the Airport and meet with our staff (One of our company staff will be waiting you at the Airport with display your name ".................." which is print on our company white board and pick up by our private vehicle and than 20 minutes drive to the Hotel. After few minutes rest in hotel, Visit in our office and have hot/cold drinks (Tea/Coffee) waiting to serve and have joined together, One of our staff will brief you regarding the trip. O/N at hotel.
Day 2
Kathmandu to Nepalgunj 40 minutes by flight and Our staff will receive you upon arrival at Nepalgunj Airport or Ambassa point. You will be then transferred to our hotel, then relax in our tharu hut, welcome drinks. AM/PM Breakfast / Lunch PM Tharu village tour to discover the hidden culture, visit to crocodile breeding centre, elephant camp. PM Dinner
Day 3
AM Breakfast & Elephant back safari. PM Half day Jungle Walking ( Option: Rafting, minimum 3 to 4 person) PM Dinner
Day 4
AM Breakfast AM Whole day Jungle Walking with pack lunch (tiger, rhino, and elephant area) & gangetic dolphin side (swim in the same time). PM western Nepal aboriginal tharu dinner dance.
Day 5
AM Early morning bird watching and departure to Kathmandu 40 minutes by Flight.
Day 6
Onward departure to the Airport by our private car. 3 hrs before you have to be airport (B)
6 Nights/ 7 Days Itinerary
Day 1
Arrival at Tribhuvan International Airport (TIA) Kathmandu. Welcome with bunch of flower assistance at the Airport and meet with our staff (One of our company staff will be waiting you at the Airport with display your name ".................." which is print on our company white board and pick up by our private vehicle and than 20 minutes drive to the Hotel. After few minutes rest in hotel, Visit in our office and have hot/cold drinks (Tea/Coffee) waiting to serve and have joined together, One of our staff will brief you regarding the trip. O/N at hotel.
Day 2
Kathmandu to Nepalgunj 40 minutes by flight and Our staff will receive you upon arrival at Nepalgunj Airport or Ambassa point. You will be then transferred to our hotel, then relax in our tharu hut, welcome drinks. AM/PM Breakfast / Lunch PM Tharu village tour to discover the hidden culture, visit to crocodile breeding center, elephant camp.
Day 3
AM Breakfast & Elephant back Safari. PM Half Day Jungle Walk
Day 4
AM Breakfast & Whole day Jungle Walking with pack lunch (tiger, rhino, elephant area) & dolphin side, swim in the same time.
Day 5
AM Breakfast & whole day Wild Rafting inside the park, explore the aquatic, riverine, and deep jungle. PM western Nepal aboriginal tharu dinner dance.
Day 6
AM Early morning bird watching and departure to Kathmandu 40 minutes by Flight. Rest of the time for shopping
Day 7
Onward departure to the Airport by our private car. 3 hrs before you have to be airport (B)
Abbrebiations: B, L, D means : Breakfast, Lunch and Dinner
Price Includes
- Airport Pick up and drop off by our private vehicle
- Kathmandu hotel room on bed and Breakfast (B) basis
- Bardia Hotel room with all accommodation such as Breakfast, Lunch and Dinner (B, L, D) basis.
 - Bardia Package Program and all activities (Tharu village tour with best Sunset view, Tharu stick dance cultural program, Canoeing Ride, Visit Elephant Breeding Center, Elephant Back safari, Bird Watching etc...)
- Bardia National Park entrance fees.
- All land transfer as per above itinerary
Price Excludes
- Nepal tourist visa fee US$ 40, with multiple entries for 30 days, you may easily issue the visa upon your arrival at Tribhuwan International Airport Kathmandu. (it will be ready within few minutes) You will require each 2 passport size photos.
- Kathmandu hotel Lunch and Dinner (L, D)
- Domestic airfare from Kathmandu to Nepalgunj to Kathmandu
- Personal Spending money and all kind of drinks (Alcoholic, hot and cold drinks) bar bill, Int'l Telephone bill, laundry etc. Tips for Jungle guide and driver. (Tipping is expected).
- Travel Insurance and medical evacuation in case of emergency
Quick Facts
Best Season: Autumn,Spring,Summer.
Duration: 4 Night/5 Days
Trekking Days:
Grade: Easy
Rating: Normal
Maximum Altitude: 1310 m
Commences At: Kathmandu
Ends At: Kathmandu
Code: BNP62
Booking Form