Island Peak Climb: A Call for, an adventurous maestro.
Island Peak Climb: A Call for, an adventurous maestro – Island Peak, differently acknowledged as Imja Tse, is one the most favored 6,000 meters peak in Nepal. The standpoint of Island peak is at 6,189 meters/ 20,305 ft above from sea level. Only a few miles away from Mt. Everest and in the charming Imja valley the Island peak is found towards Everest region. Island peak (Imja Tse) is absolutely deeply likable peaks in planet.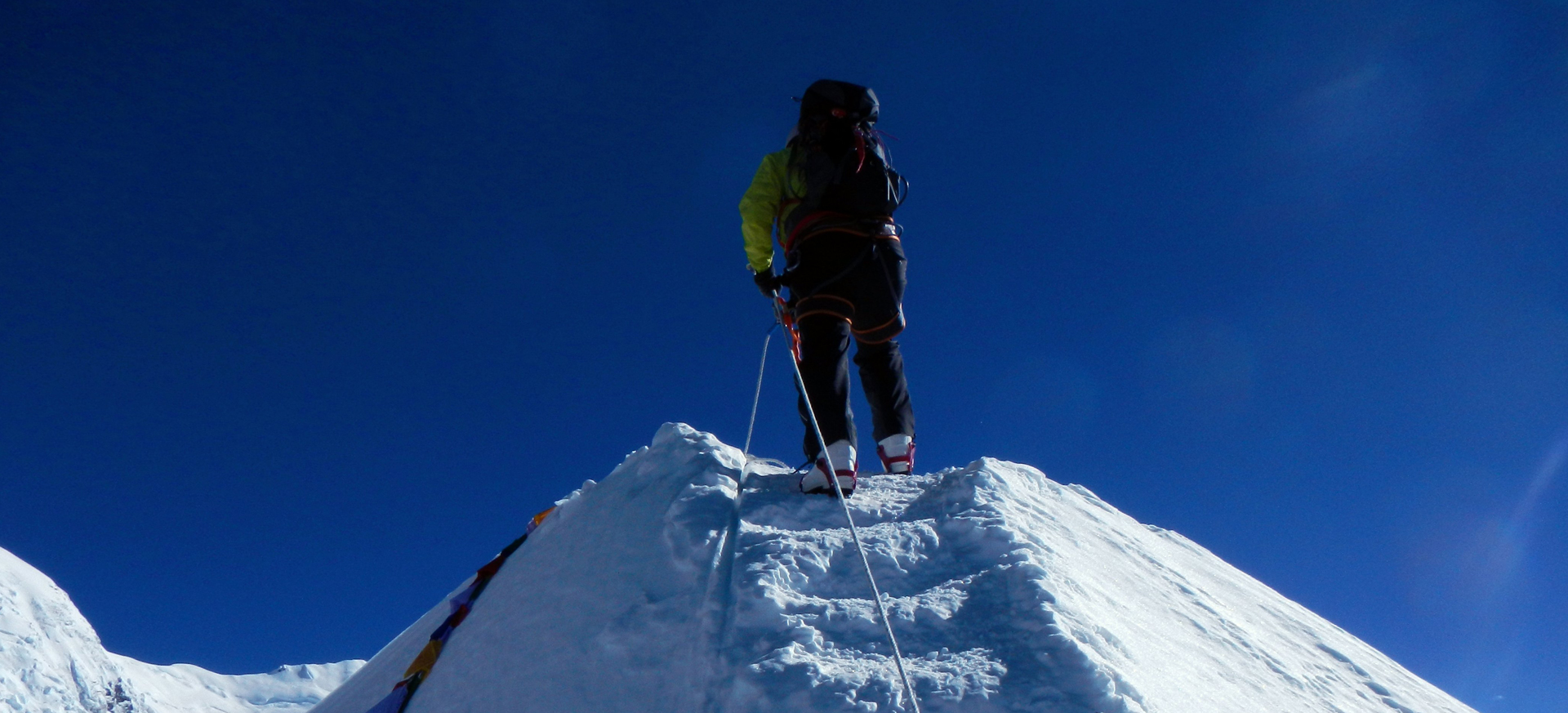 Island peak climbing is graded as trekking peak by some climbers. Above 20,000 ft peak, Island peak is an exhausting peak climb to its elevation and ask for, to conduct the peak with great attentiveness. This adventurous challenge will make the Island peak climbers experienced like they can scale the real world by approaching on a baby summit of Island peak. Such elevated in the mountain range is incredibly smashing felicity, on the other hand Island peak climbers must be ready with full of fitness and preparation for the mounting.
This 20-days Island peak expedition is a magnificent welcome towards the high Himalayan mountaineering that can be practiced as a trailing rock to leading peak. Before climbing the Island peak, our 20-days peak climbing itinerary certifies climbers acclimatize unhurriedly during trekking jump to the Khumbu valley. Considering the Island peak climb, climbers receive steady support of employing high camp set at 5,600 meters, this lead towards a shorter summit day in comparison of climbing perfectly at 5,000 meters from base camp. The rising to Island peak go ahead with a struggle ascend through rocky ravine to a  cliff where climbers affix crampons and rope up for the snow slide traversing aiming towards the south ridge.
 The route over the snow slide is easy-slant, however the route can be fissured in places. 110 meters of snow and ice, as slope as 45° is mounted to reach on the blowy summit ridge from the fissure at the base of the head way. This go after to the lead, at the high point and the Island peak climbers can be pleased with the phenomenal vistas of Lhotse Shar, West face of Makalu, the north face of Mt Baruntse and the north ridge of Mt. Ama Dablam. With a scenic mountain flight from Kathmandu towards Lukla, the trekking expedition break out, previously trek to Dingboche through the route of legendary Sherpa village, Namche Bazaar.
Climbers to Island peak consume their two nights in each Dinboche and Namche villages, to comfort with their acclimatization and grow less the the chance of Acute Sickness. It gains extra two days to get Island peak base camp, at base camp climbers will have more day to acclimatize and warm up for the summit effort. Succeeding the climbing of Island peak climbers backtrack their trails back down the vital Everest trail to Lukla and take off final back to Kathmandu. By choice, climbers can prolong their Island peak climb trek by adding more 4 days and trek to Everest Base Camp with Island peak climb.
Whom is the Island peak meant for?
Are you well-suited? Have you made high-altitude treks before? Then you can join Island Peak climbing trek onto your must-do list! This is one of the few peak climbing in Nepal where you can rise up to 20,305 ft with somewhat technical prowess. Island peak climb requires not only physical but mental strength since you will be increasing an altitude of 16,690 feet during the summit ascent start from its base camp. Anyone above 20 years with prior high altitude trek experience is good to venture!
Adversity grade and preparation.
Any high-altitude trek is both physically and mentally strenuous. The Island peak climb is a difficult one. Climbing up to altitudes of 20,305 ft on a Island peak climb can irate even the able-bodied trekker and climbers. You have to take a break after you gain 20 to 30 steps during the summit ascent.  This climbing Island peak requires right acclimatization and that's the logic behind the acclimatization walks before the summit ascent. Island is a peak climb that can be done only after you have a couple of high-altitude treks asked for it in your bucket ladder.